« TT: Almanac | Main | TT: Almanac »
March 22, 2013
TT: Small-town dreams
In today's Wall Street Journal column I review the Broadway transfer of Hands on a Hardbody, an important off-Broadway revival of Anita Loos' Happy Birthday, and the premiere of Breakfast at Tiffany's. The first two are first-rate, the third a belly-up disaster. Here's an excerpt.
* * *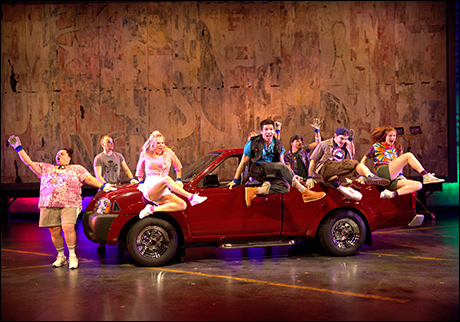 Broadway has been sorely in need of a new musical that touches the heart without insulting the intelligence. Now it's got one. "Hands on a Hardbody," in which 10 cash-strapped Texans take part in an endurance contest whose winner will drive home a brand-new pickup truck, is a deeply felt, emotionally true portrait of recession-era American life. The show's unlikely-sounding premise--each of the contestants must keep one hand on the truck until they either give up or collapse--ends up being the occasion for an evening that is by turns festive and thought-provokingly dark. Think "Once," only with a much better score.
A fictionalized stage version of S.R. Bindler's 1997 film documentary of the same name, "Hands on a Hardbody" never makes the mistake of sneering at its characters and their unpretentious hopes and dreams. Instead, Doug Wright ("I Am My Own Wife") has written a book in which they are portrayed with the kind of clear-eyed sympathy you'd expect to find in a play by Horton Foote. The tuneful Americana-style songs, by Amanda Green ("Bring It On," "High Fidelity") and Trey Anastasio, Phish's guitarist, are no less impressive in their understanding of the ups and downs of small-town life...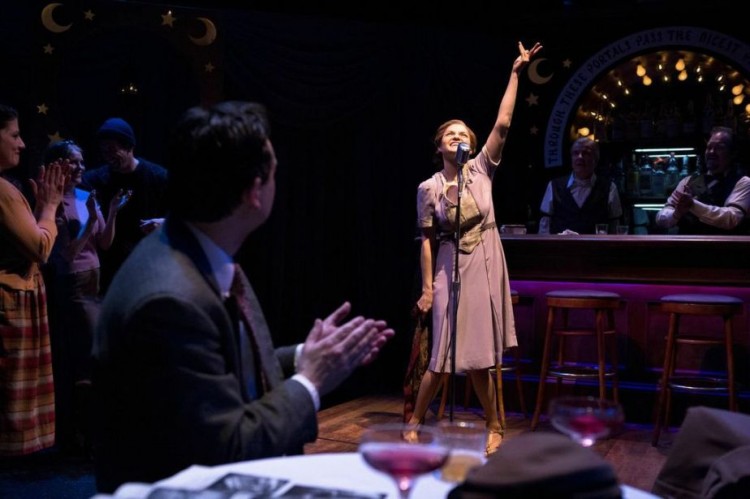 TACT/The Actors Company Theatre, which mounted flawless Off-Broadway revivals of Brian Friel's "Lovers" and Neil Simon's "Lost in Yonkers" last year, has done it again with "Happy Birthday," a smart little comedy by Anita Loos, the once-celebrated author of "Gentlemen Prefer Blondes." "Happy Birthday," in which a prim spinster (Mary Bacon) takes refuge from a storm in the Jersey Mecca Cocktail Bar, downs a few drinks and suddenly metamorphoses into a party girl, was a huge hit on Broadway in 1946--it ran for 563 performances--but has since been forgotten, mainly because it calls for a budget-busting cast of 17. (Two of the roles have been doubled, but you won't notice.) Scott Alan Evans has staged this revival with exceptional skill, getting all of the laughs without obscuring the melancholy that is never far from the shiny surface of Ms. Loos' script....
Nothing about "Breakfast at Tiffany's," the new theatrical version of Truman Capote's 1958 novella about Holly Golightly (Emilia Clarke), a fey little semi-whore with a weakness for gangsters, is any good at all. Richard Greenberg's clumsy script seeks without success to lift the book's coolly wrought first-person narration off the page and move it to the stage. Ms. Clarke ("Game of Thrones") gives a performance that is as flat and textureless as a piece of painted cardboard...
* * *
Read the whole thing here.
Trey Anastasio and Amanda Green talk about the original La Jolla production of Hands on a Hardbody:
Truman Capote reads from Breakfast at Tiffany's at New York's 92nd Street Y in 1963:
Posted March 22, 2013 12:00 AM
Tell A Friend