« TT: Too clever by half | Main | THE UNGENEROUS BRILLIANCE OF KENNETH TYNAN »
March 1, 2013
TT: Smaller is bigger
In today's Wall Street Journal drama column I review two outstanding off-Broadway shows, the Classic Stage Company revival of Passion and Liz Flahive's new play, The Madrid. Here's a excerpt.
* * *
Stephen Sondheim may be a Broadway baby, but most of the best revivals of his musicals have been mounted in small-to-medium-sized theaters and accompanied by chamber ensembles, not budget-busting pit orchestras. While John Doyle didn't invent this approach, it was his 2005 Broadway revival of "Sweeney Todd" that introduced many New Yorkers to the subtle joys of small-scale Sondheim. Now Classic Stage Company has given us a Doyle-directed off-Broadway version of "Passion," the last and best of Mr. Sondheim's three collaborations with James Lapine. Accompanied by a nine-piece band and performed in the company's 180-seat theater, this "Passion" is memorable in every way, starting with Judy Kuhn's quietly fierce performance as the show's love-besotted anti-heroine. It will be a long time before we see another staging of "Passion" that speaks so eloquently of the black mysteries of the human heart....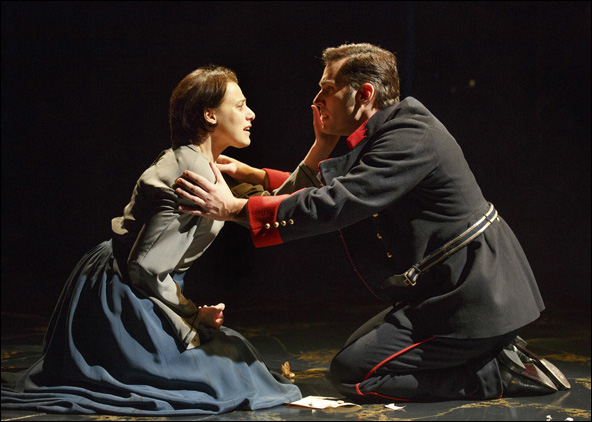 Mr. Doyle, who also designed the set for this production, has approached "Passion" not as a naturalistic love story but as a piece of lyric theater, placing it in the simplest of environments, an open thrust stage, and arranging the actors in quasi-balletic stage groupings that are as poetic as the songs they sing. The theater is small enough that the performers need never raise their voices: They speak of their all-consuming passions in the softest of tones, and we are drawn into their plight like a lifeboat being pulled into a whirlpool.
Ms. Kuhn is made up to look drab but not overtly ugly, and she sings of her doomed love in so understated a way that you respond to her not as a monstre sacré of desire but as a human being, at once pitiable and--yes--beautiful....
Liz Flahive made her Off-Broadway debut in 2008 with "From Up Here," a flawed but sharp-witted little tale of suburban life. Then she dropped off the scope and became a producer for Showtime's "Nurse Jackie," in which capacity she got to know Edie Falco, the show's star. Now Ms. Falco, who likes to do plays in between shooting TV episodes, is appearing in "The Madrid," Ms. Flahive's second play, which is even better than "From Up Here."
Ms. Falco plays a middle-aged kindergarten teacher who walks out on her husband (John Ellison Conlee) without warning or apparent reason, leading her 22-year-old daughter (Phoebe Strole) to move back home in order to take up the emotional slack. Ms. Flahive has realized the promise of "From Up Here" in "The Madrid," which is the smartest new domestic drama to come along since Amy Herzog's "4000 Miles." Neatly structured and unassumingly well-written, it has thought-provoking things to say about the loosening of postmodern family ties...
* * *
Read the whole thing here.
Judy Kuhn talks about Passion:
Posted March 1, 2013 12:00 AM
Tell A Friend