« TT: Almanac | Main | TT: Kill or be killed »
February 1, 2013
TT: Britten up, Britten down
Today's Wall Street Journal "Sightings" column is occasioned by the coming centennial celebrations of the birth of one of my favorite composers. Here's an excerpt.
* * *
No one can resist a centennial. Benjamin Britten, England's foremost classical composer, was born on Nov. 22, 1913, and the world of music has already started to mark the occasion. Go to www.britten100.org and you'll find a list of more than 1,500 world-wide Britten-related events. That's a lot of performances--but, then, Britten wrote a lot of music. He was the 20th century's most successful opera composer, and most of his operas, including such masterpieces as "Peter Grimes" (1945) and "The Turn of the Screw" (1954), continue to be staged regularly. He also wrote vast amounts of vocal and instrumental music, and in addition to being a composer, he was also a supremely gifted conductor and pianist who left behind dozens of remarkable recordings...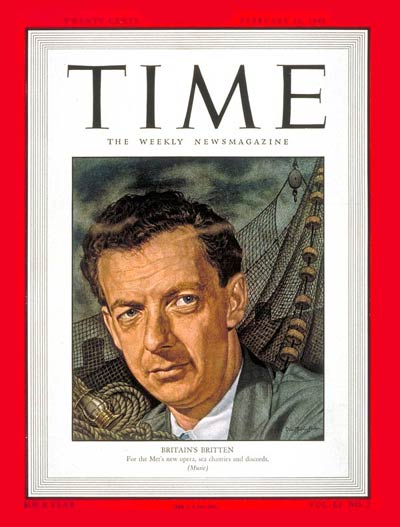 Yet critics as a group have been slow to admit Britten to the pantheon of top-tier composers. His unfailingly accessible, straightforwardly beautiful music, like that of Aaron Copland, his opposite number in America, is widely--if by no means universally--thought to be too "easy" to be great. But there's more to it than that. Throughout his life and to this day, Britten's reputation has risen and fallen for reasons that have at least as much to do with his complex personality.
For openers, he was a pacifist who refused to serve in World War II, instead registering in 1942 as a conscientious objector. Not surprisingly, Britten was angrily criticized by his contemporaries for refusing to fight the Nazis....
In addition, Britten was homosexual at a time when "gross indecency" between consenting adults was a criminal offense in England (it remained so until 1967). While his sexuality was never mentioned publicly, it was known throughout the world of music and fairly well known outside it. Britten never pretended to be heterosexual--he lived with a male partner, the tenor Peter Pears--and while homosexuality was no less common then than it is today, anti-gay attitudes were far more widespread in artistic circles....
By the time of Britten's death in 1976, the mere fact of his homosexuality was no longer controversial. But his own sexual attitudes have lately generated a different kind of controversy, for he never managed to come fully to terms with the fact that he was gay....
* * *
Read the whole thing here.
A complete studio performance of Peter Grimes, taped by the BBC in 1969. Peter Pears performs the title role and the composer conducts the London Symphony Orchestra:
Posted February 1, 2013 12:00 AM
Tell A Friend