« TT: Almanac | Main | TT: Almanac »
February 22, 2013
TT: Arise and go to Innisfree
In today's Wall Street Journal drama column I have good things to say about an off-Broadway show, the Irish Rep revival of Donnybrook!, and an out-of-town show, the Asolo Rep revival of You Can't Take It With You in Sarasota. Here's an excerpt.
* * *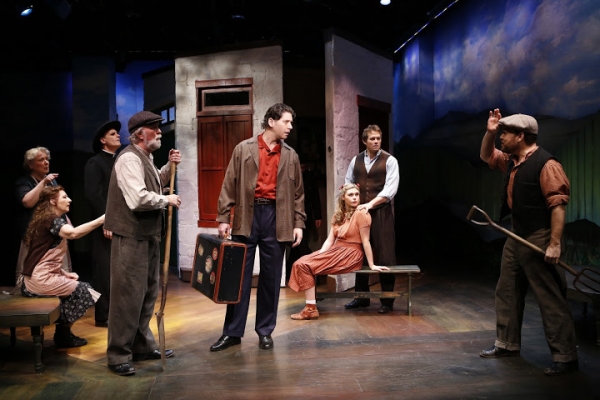 Turning a classic movie into a stage musical is a risky proposition that usually pays off in grief. When the source material is ultra-familiar and the original film full of top-tier stars, it's all but impossible to survive the comparison game. Johnny Burke, one of the greatest lyricists of the golden age of Hollywood musicals, tried to bring John Ford's "The Quiet Man" to Broadway in 1961 and failed dismally. "Donnybrook!" closed after 68 performances and was never seen again--until now. It makes sense that the Irish Repertory Theatre should have taken an interest in a musical set in Innisfree, and Charlotte Moore, the company's artistic director, has contrived with her usual deftness to paper over the show's flaws and bring its considerable charms to the fore.
The comparison game always starts with casting. Whom do you put in a musical whose original film version starred John Wayne, Maureen O'Hara and a gaggle of scene-stealing character actors? In Wayne's case, Ms. Moore has opted for a tall, bluff fellow with a magnificent singing voice. James Barbour, who was last seen on Broadway in "A Tale of Two Cities," is a sterling-silver musical-comedy baritone, and "Donnybrook!" takes wing whenever he opens his mouth. No, he doesn't have Wayne's redwood-like physical presence, but the Duke, on the other hand, couldn't carry a tune in a holster, so I'd call it a draw....
The main reason for the initial failure of "Donnybrook!" was Mr. Burke's good-to-middling score, for which he supplied both words and music. While he was a big-league lyricist, Mr. Burke was strictly an amateur composer--it was his longtime collaboration with Jimmy Van Heusen that put him on the map--and "Donnybrook!" contains only one song, "Sad Was the Day," that is comparable in quality to the songs that he wrote with Mr. Van Heusen. (Stephen Sondheim included it in a list of songs he wished he'd written.) To that end, Ms. Moore has done no small amount of smart musical tinkering, dropping some of the weaker songs and interpolating two blue-chip Burke-Van Heusen ballads, "But Beautiful" and "It Could Happen to You," plus an assortment of authentic Irish tunes...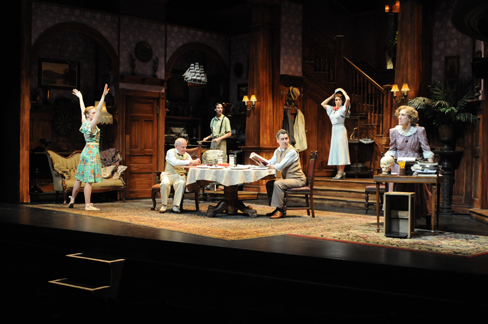 Now that regional theaters across the country are feeling the economic bite, they're increasingly steering clear of large-cast, big-budget plays. Not so Florida's Asolo Repertory Theatre, which has just revived "You Can't Take It With You," the 1936 screwball farce about a loony but lovable Depression-era family that won George S. Kaufman and Moss Hart a Pulitzer Prize and was turned by Frank Capra into an equally popular (if less effective) movie. If you've come down with the February blues, this production will return you to the right side of the bed.
"You Can't Take It With You" calls for a cast of 19, thus putting out of reach of most of today's professional troupes. Fortunately, Asolo Rep, a regional company that doubles as a drama school, can use student actors to cover smaller roles, as it did last season with "Once in a Lifetime," the first Kaufman-Hart collaboration, and is doing again now. I know all about lightning not striking twice, but this production, soundly and skillfully directed by Peter Amster, is at least as good as its predecessor....
* * *
Read the whole thing here.
A trailer for Donnybrook!:
Posted February 22, 2013 12:00 AM
Tell A Friend