« TT: Almanac | Main | TT: Almanac »
January 11, 2013
TT: Too true to be good?
In today's Wall Street Journal drama column I report on my first visit to Sarasota's Florida Studio Theatre, at which I recently saw Mark St. Germain's The Best of Enemies. Here's an excerpt.
* * *
Few entries in the annals of conversion sound quite so implausible on first acquaintance as that of C.P. Ellis, a North Carolina gas-station operator who, having joined the Ku Klux Klan and attained in due course the lofty rank of Exalted Grand Cyclops, decided to hang up his robe and become an advocate for school desegregation. Mr. Ellis, who died in 2005, isn't nearly so well remembered as he ought to be, but Studs Terkel wrote him up a couple of times, and he was also the subject of a 1996 biography, Osha Gray Davidson's "The Best of Enemies: Race and Redemption in the New South." Now Mark St. Germain, the author of "Freud's Last Session," has used Mr. Davidson's book as the basis for a four-person play, also called "The Best of Enemies," which was premiered three years ago by Massachusetts' Barrington Stage Company and is currently making the regional rounds. I caught up with it in Sarasota, a city that once upon a time was a burgeoning center of Klan activity, and found it to be both an engrossing piece of theatrical journalism and a vehicle for a quartet of top-notch actors.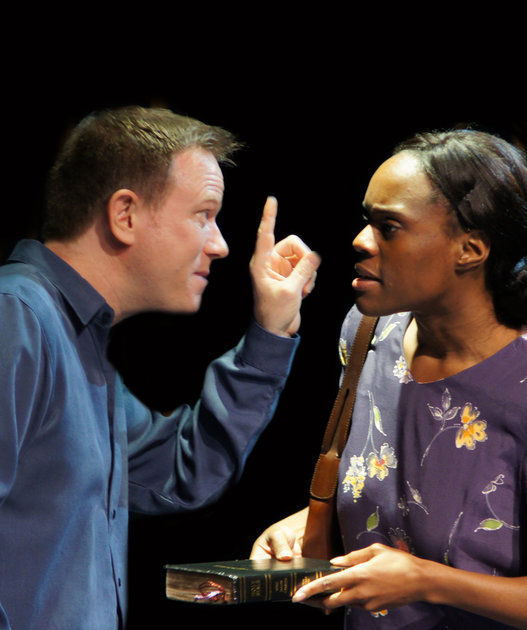 Florida Studio Theatre has most definitely got the actors, starting with Sheffield Chastain, who couldn't possibly be better as Mr. Ellis, a hard-tack cracker who in his benighted youth didn't blink at referring to the Rev. Martin Luther King, Jr., as "Martin Lucifer Coon." While Mr. Chastain's performance isn't exactly subtle--Mr. Ellis, after all, wasn't a subtle person--it's as believable as a clip from a cinéma-vérité documentary....
Mr. Ellis' story, astonishing though it seems at first glance, turns out to be rather too linear to be truly dramatic. His journey from monstrosity to enlightenment contains no backward steps and, as dramatized by Mr. St. Germain, few lingering doubts. We meet C.P. in his KKK days, we watch him acting like a jerk, we see him change his mind, and all at once he's not a racist anymore. Nor is the outcome in any way surprising, for the audience knows going in what's going to happen, having previously been alerted that it's about to see "a true story" (a phrase that not only appears on the cover of the program but is projected on the back wall of the set). We are, in other words, gathered together to witness a heartwarming tale of redemption, the kind of thing that is the stuff of countless made-for-TV movies. The only difference--and it's a big one--is that it's true. If it weren't, you'd be rolling your eyes all night long.
But "The Best of Enemies," of course, is true, and while it's not "exciting" in the ordinary sense of the word, the results are as fascinating as an absolutely first-rate magazine story....
* * *
Read the whole thing here.
Mark St. Germain talks about The Best of Enemies:
Posted January 11, 2013 12:00 AM
Tell A Friend