« TT: Francis Poulenc, maître | Main | TT: Almanac »
January 18, 2013
TT: In a lonely place
I flew up to New York last weekend to cover three Broadway openings, Picnic, Cat on a Hot Tin Roof, and The Other Place, for The Wall Street Journal. Here's an excerpt from my review.
* * *
William Inge's "Picnic," one of the least sufficiently appreciated American dramas of the 20th century, has returned to Broadway for the first time since 1994 in a Roundabout Theatre Company revival that fully conveys its beauty and power. If, like most people, you only know Inge's once-famous plays from their buffed-up screen versions, you'll find Sam Gold's sensitive staging to be a revelation. No, "Picnic" isn't a big-budget Hollywood soap opera: It's a plain-spoken portrait of small-town life that manages at the same time to be both critical and sympathetic.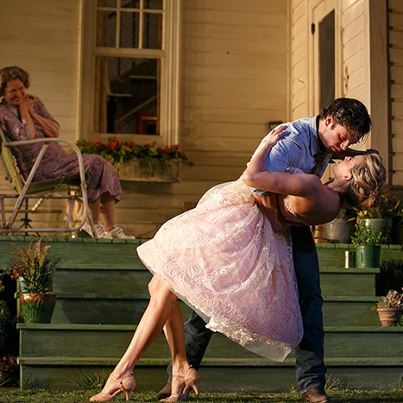 The quality of "Picnic" was long obscured by the fact that Inge wrote four Broadway hits in a row, all of which were turned into equally successful movies. The original 1953 Broadway production of "Picnic," for instance, ran for 477 performances, and the film version, which starred William Holden, Kim Novak, and Rosalind Russell, was one of the biggest box-office smashes of 1955. How could so popular a playwright be any good? But Inge was very, very good, and he never wrote anything better than the soft-spoken story of Madge (Maggie Grace), a shy, pretty girl whose uncomplicated existence is upended when a handsome drifter named Hal (Sebastian Stan) passes through town and lures her into bed.
Part of what makes "Picnic" so special, though, is that there's so much more to it than that. It's a Chekhov-style ensemble play whose 11 onstage characters, whether they know it or not, are all leading lonely, unfulfilled lives....
The world really didn't need yet another "Cat on a Hot Tin Roof," least of all the one that just opened in New York. This is the third time in the past decade that Tennessee Williams' overripe, overwrought 1955 play about a grossly dysfunctional southern couple (he's probably gay, she's definitely miserable) has been revived on Broadway. Like its predecessors, it's a belly-up disaster whose existence can be explained, if not justified, by the presence of a movie star in the cast. Scarlett Johannson, who made a solid Broadway debut in the 2010 revival of "A View fom the Bridge," is no good at all this time around as Maggie, speaking her lines in a half-intelligible pseudo-southern accent that suggests a concerto for icepick and eardrums....
Sharr White's "The Other Place" is a smooth, slick 70-minute psychological mini-thriller about a bitchy dementia researcher (Laurie Metcalf) who may or may not be going crazy. Since there's a whoops-you-guessed-it reveal midway through the play, I'll say no more about the plot other than to gripe about the last scene, whose rank sentimentality is unworthy of the beautifully restrained scene that precedes it....
* * *
Read the whole thing here.
A trailer for the Roundabout revival of Picnic:
Posted January 18, 2013 12:00 AM
Tell A Friend