« TT: How to be an aging rocker | Main | TT: Almanac »
January 4, 2013
TT: Hunting Foxes in Florida
In today's Wall Street Journal drama column I report on the Florida Repertory Theatre's revival of The Little Foxes. Here's an excerpt.
* * *
How good is "The Little Foxes"? It depends on what you're comparing it to--and how well it's done. Lillian Hellman's 1939 play about a greedy small-town merchant family is neither subtle nor poetic, and if it's performed in the manner of a hiss-the-villain melodrama, you'll go home feeling as though you'd just spent two and a half hours in a dentist's chair. But Ms. Hellman knew how to nail a plot together so tightly that the seams don't show, as well as how to ring down a curtain so hard that the audience gasps. Of such talents are sure-fire plays made. Do "The Little Foxes" right and it can't miss. The Florida Repertory Theatre is doing it very, very right, and the results are superlative.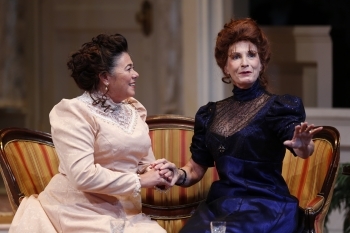 You've probably seen "Foxes" at least once, either onstage or in William Wyler's 1941 film version, so I'll limit myself to saying that Regina Giddens (played here by Sara Morsey) is one of the nastiest pieces of work in the history of American theater, a woman so determined to best her brothers (Mark Chambers and Peter Thomasson) in a shady business deal that she's more than happy to do it over her husband's dead body. Regina is so despicable, in fact, that the key to making "The Little Foxes" work is to keep her awfulness under wraps for as long as possible. An exaggerated performance will sink the show, but Ms. Morsey is careful to carry herself in the genteel manner of a southern lady right up to the moment when she unsheathes her razor and starts slashing. You'll definitely believe her when she tells Horace (Craig Bockhorn), her sickly husband, that "I hope you die soon. I'll be waiting for you to die."
Maureen Heffernan, the director, has previously worked wonders with Florida Rep's productions of Brian Friel's "Dancing at Lughnasa" and A.R. Gurney's "Sylvia." Hence it seems safe to say that she deserves much of the credit for steering Ms. Morsey away from the low road of premature overacting to which so many Reginas before her have succumbed. Here as before, Ms. Heffernan makes a point of not getting in between the play and the audience....
* * *
Read the whole thing here.
A scene from the 1941 film version of The Little Foxes, with Bette Davis and Herbert Marshall as Regina and Horace Giddens:
Posted January 4, 2013 12:00 AM
Tell A Friend