« TT: Snapshot | Main | TT: Almanac »
December 5, 2012
TT: Dave Brubeck, R.I.P.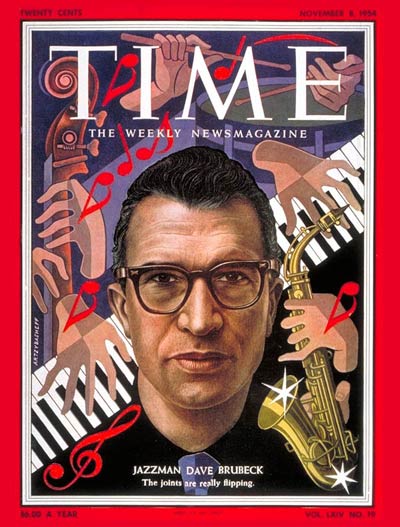 Dave Brubeck, a wonderful artist and an uncommonly kind and decent man, died today, on the eve of his ninety-second birthday. The Los Angeles Times obituary is here.
Much will be said about Brubeck in days to come, so I'll confine myself to a purely personal note: I learned how to play jazz bass as a boy by plucking along with my father's battered copy of Jazz Goes to College, the 1954 live album that made Brubeck a star. It's as listenable today as it was six decades ago. So are most of his other records, this one in particular.
Here's a rare kinescope of the Dave Brubeck Quartet performing "The Duke," a tribute to Duke Ellington that was Brubeck's best-known composition. Paul Desmond is the saxophonist, Bob Bates the bassist, Joe Dodge the drummer:
And here's my all-time favorite Brubeck record, a performance of his own "Summer Song" in which he accompanies none other than Louis Armstrong. Iola, Dave's wife, wrote the lyric:
Posted December 5, 2012 12:47 PM
Tell A Friend