« TT: When a miss is as good as a mile | Main | TT: Almanac »
December 7, 2012
TT: An American master returns to Broadway
In today's Wall Street Journal drama column I review a rare and important Broadway revival of Clifford Odets' Golden Boy and the premiere of David Mamet's The Anarchist. Here's an excerpt.
* * *
Clifford Odets didn't make it easy on posterity. Born in 1906, he'd already written two major plays by the age of 31, and turned up on the cover of Time a year after that. Then Hollywood got its claws into him, and he spent the rest of his life knocking out good, bad and indifferent screenplays for money, trying vainly to repeat the successes of "Awake and Sing!" and "Golden Boy" when not preoccupied with studio hackwork. In time his theatrical reputation faded to black, and first-class revivals of his youthful masterpieces are now degradingly rare. Except for a 1964 musical version that starred Sammy Davis, Jr., that "Golden Boy" hasn't been seen on Broadway since 1952. Now Lincoln Center Theater has brought it back to the Belasco Theater, where the play was first performed 75 years ago, and given it a production of the utmost splendor and compulsion. Watching it is like standing in front of a blowtorch.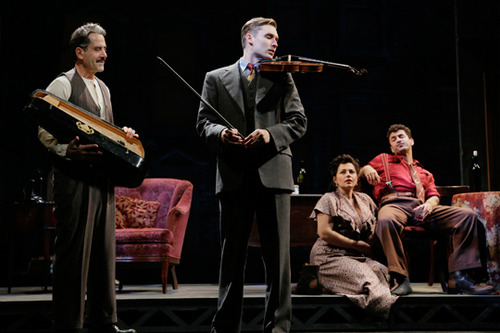 Time was when everybody knew the plot of "Golden Boy," in part because it was later turned into the film that made 21-year-old William Holden a star. In the 1939 screen version, Holden was cast in the central role of Joe Bonaparte (now played onstage by Seth Numrich), a talented young Italian-American violinist who hates the emasculating poverty into which he was born and seeks to escape it by becoming a lightweight boxer, thereby horrifying his music-loving father (Tony Shalhoub). Joe inevitably falls among thieves, the worst of whom is a murderous gangster (Anthony Crivello) who uses the boy's hunger for fame to set him on a path that leads away from the "truthful success" for which his father longs.
Why did it take so long for "Golden Boy" to be revived? The obvious reason is that it has 19 speaking roles and requires five sets, making it impossible to produce commercially other than at ruinous expense. Beyond that, the cornball plot, if taken at face value, is the stuff of parody. But if you instead approach "Golden Boy" as you would an opera, you'll find that Odets knew exactly what he was doing. "Golden Boy" is a true and telling parable of American ambition, a tale in which the ordinary is made extraordinary by transposing it into an emotional key so high that you almost expect the actors to break into song....
"The Anarchist," David Mamet's new play, is a 70-minute-long debate between a hard-left domestic terrorist (Patti LuPone) who has spent 35 years in prison for murdering two policemen and her Grand Inquisitress, the parole officer (Debra Winger) who is resolved to keep her there until she breathes her last. On paper it's an intellectual skirmish about the nature of political fanaticism, written in a stilted style (no four-letter words, a minimum of contractions) that sounds deliberately artificial...
While the issues at stake are sufficiently dramatic in and of themselves to make for an interesting night at the theater, Mr. Mamet, who is on record as believing that "the director is not primary in the theater" and "could, indeed, be disposed of," has made the suicidal decision to direct "The Anarchist" himself. The flat, bald results suggest a Socratic dialogue staged in the just-the-facts-ma'am manner of an episode of "Dragnet," only without closeups....
* * *
Read the whole thing here.
The 1939 film version of Golden Boy, starring William Holden, Adolphe Menjou, and Barbara Stanwyck and directed by Rouben Mamoulian:
Posted December 7, 2012 12:00 AM
Tell A Friend