« TT: Found poem | Main | TT: Twice in a lifetime »
November 2, 2012
TT: The jilter jilted
In today's Wall Street Journal drama column I review the new Broadway revival of The Heiress. Here's an excerpt.
* * *
"The Heiress," adapted by Ruth and Augustus Goetz from "Washington Square," Henry James' 1880 novella about a plain young woman of means who is courted and jilted by a gold-digging suitor, ran for a year in New York, after which William Wyler turned it into one of the finest screen versions of a classic ever to be made in Hollywood. The original play has since been revived several times on Broadway, most recently in the unforgettable 1995 Lincoln Center Theater production that made Cherry Jones a star. Now it's receiving a big-name revival featuring Jessica Chastain. Though I wish I could be more enthusiastic about the results, this production, which is uneven but not unrewarding, will at least serve to introduce those who don't know "The Heiress" to its manifold excellences.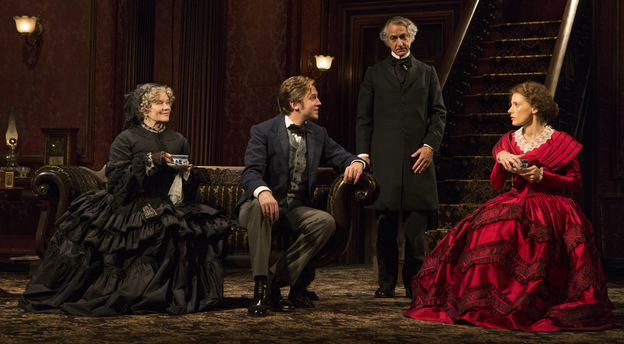 It's remarkable that the Goetzes were able to transform so elegantly turned a book as "Washington Square" into a fully stageworthy play, and even more remarkable that they contrived to do so without compromising its essence. Not only did they incorporate much of James' dialogue into the script, but they also stuck close to his plot, adding only two neat and very effective touches of climactic melodrama. What disappeared along the way was the sardonic narrative voice in which James tells the tragic tale of how Catherine Sloper (Ms. Chastain) avenges herself on Morris Townsend (Dan Stevens) for dashing her romantic hopes--and on her well-meaning but cold-hearted father (David Strathairn) for always having treated her like a homely dullard. Fortunately, Dr. Sloper's part contains more than enough "light remnants and snippets of irony" (James' phrase) to make up for what has been lost in translation, especially when it's played with the blandly stealthy malice that Ralph Richardson brought to the role on screen in 1949.
Mr. Richardson was, of course, one of the foremost classical stage actors of the 20th century, but Mr. Strathairn is a formidably accomplished artist in his own right, and so it surprised me that he has chosen to play Dr. Sloper not with sly urbanity but as a querulous, near-provincial gent who seems at times almost to be soliciting the audience's sympathy....
Ms. Chastain's performance, certain affecting moments notwithstanding, is too often vocally flat and dramatically unsubtle in a way that you wouldn't expect from a classically trained actor with a fair amount of stage experience. She lacks the adamantine toughness without which the final scene of "The Heiress" cannot make its proper impact...
* * *
Read the whole thing here.
An excerpt from William Wyler's 1949 film version of The Heiress, starring Olivia de Havilland and Ralph Richardson. The score is by Aaron Copland:
Cherry Jones talks about the 1995 revival of The Heiress:
Posted November 2, 2012 12:00 AM
Tell A Friend