« TT: Almanac | Main | TT: Almanac »
November 30, 2012
TT: Take the money and run
In today's Wall Street Journal I review the Broadway premiere of Theresa Rebeck's Dead Accounts and a new revival of August Wilson's The Piano Lesson. Here's an excerpt.
* * *
Sometimes a play that doesn't quite work can be more satisfying than a well-made piece of dramatic yard goods. It isn't hard to see what's wrong with Theresa Rebeck's "Dead Accounts," the story of a manic embezzler who takes the money and runs home to his mother--yet for all its manifest flaws, Ms. Rebeck's new play is seldom predictable and never boring, and her cast, led by Norbert Leo Butz, glitters like sapphires on black velvet. If it's perfection you want, go elsewhere, but you'll miss out on an exceedingly interesting night at the theater.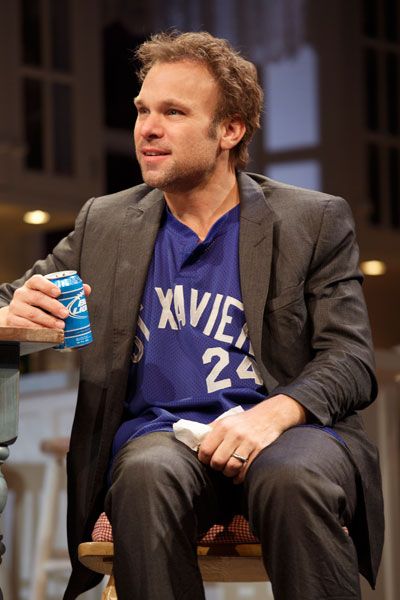 Jack, Mr. Butz's character, turns up without warning at the back door of his childhood home in suburban Cincinnati, spewing one-liners in all directions. At first it seems that a comedy is getting underway, but it soon becomes clear that bad things have either happened or are about to, and by the time Jack starts pulling stacks of bank-strapped bills out of his pockets, you've got a pretty fair idea of what's afoot. So do Lorna (Katie Holmes), Jack's unhappy sister, and Barbara (Jayne Houdyshell), his blandly censorious mother, both of whom notice with alarm that he keeps cracking jokes about having murdered his wife....
While the laughs don't stop when the truth comes out, "Dead Accounts" is in fact a dead-serious comedy about what happens to people who, like Jack and Lorna, wake up one morning and realize that their lives haven't lived up to their dreams. Is it possible to change course in midstream, or are you doomed to permanent disappointment? The problem is that Ms. Rebeck, like Neil Simon before her, finds it difficult to modulate decisively into a darker key--she keeps on cracking jokes long after the situation has ceased to call for them...
I've never seen a bad production of an August Wilson play--his work has a way of bringing out the very best in its performers--but some are inevitably better than others. Ruben Santiago-Hudson, whose 2006 Signature Theatre revival of "Seven Guitars" was nothing short of magnificent, has done it again with "The Piano Lesson," Mr. Wilson's 1987 play about a Pittsburgh family whose members seek to exorcise--literally--the ghosts of the past that keep them from grappling with the challenges of the present. The staging is taut and disciplined, the acting sumptuous, and Michael Carnahan's precisely imagined two-story set would hold your attention even if the rest of the show didn't measure up....
* * *
Read the whole thing here.
"Berta, Berta," as sung by Charles S. Dutton, Carl Gordon, Tommy Hollis, and Lou Myers in the 1995 Hallmark Hall of Fame TV version of The Piano Lesson, directed by Lloyd Richards. All four men appeared in the play's original Broadway production. The song was first recorded by Alan Lomax during a 1959 visit to Mississippi's Parchman Farm Penitentiary:
Posted November 30, 2012 12:00 AM
Tell A Friend