« TT: Almanac | Main | TT: Almanac »
November 16, 2012
TT: An Oklahoma! for our time
In today's Wall Street Journal drama column I review the New York premieres of Giant and The Performers. The first is sublime, the second wretched--so much so that its closing notice was posted yesterday, just after the Journal page containing this review was sent to the printers! Here's an excerpt.
* * *
The Broadway musical has never been more popular, or less interesting. No other genre remains so essential to the American stage, yet no more than a half-dozen new musicals of indisputable quality have made it to Broadway since the turn of the twenty-first century, and the creative torpor that afflicts the genre continues to grow deeper. If you want to see a first-rate new musical nowadays, you've got to look to Off Broadway or regional theater. Michael John LaChiusa's "Giant," for instance, was premiered at Signature Theatre of Arlington, Va., three years ago and has now reached the Public Theater after an intermediate stop in Dallas. About time, too, for "Giant" is the most important new musical to come along since "The Light in the Piazza." It's a show of immense and fully realized promise--and it deserves to move uptown.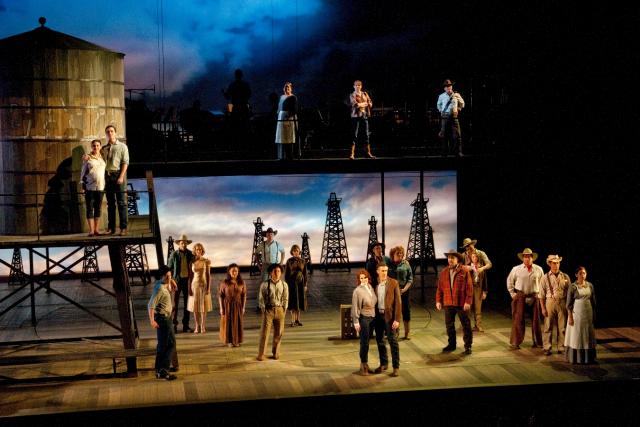 "Giant" is based on Edna Ferber's sprawling 1952 saga of life and love on a Texas cattle ranch, which George Stevens later turned into a widescreen extravaganza starring James Dean, Rock Hudson and Elizabeth Taylor. Mr. LaChiusa and Sybille Pearson, who wrote the book of "Giant," have wisely chosen to return to the original source, in the process improving it decisively. Ms. Ferber, best remembered for the 1926 novel on which "Show Boat" is based, was a good storyteller but a stiff stylist, and Ms. Pearson's adaptation retains her page-turning plot while jettisoning virtually all of her leaden prose, leaving plenty of room for Mr. LaChiusa to do his stuff.
It's no slight to Ms. Pearson to say that her collaborator is the senior partner in "Giant." Mr. LaChiusa, after all, is one of the two most prodigiously gifted musical-theater songwriters to come along since Stephen Sondheim. Like Adam Guettel, who wrote the score for "The Light in the Piazza," he uses the language of popular music to serve expressive ends that are fundamentally operatic, exploding the simple chorus-based forms of traditional pop song and expanding them into large-scale structures similar to those used by Mr. Sondheim in "Passion" and "Sweeney Todd." Not only do his musical numbers drive "Giant" through its dramatic arc with compulsive force, but much of Ms. Pearson's dialogue is underscored, which prevents "Giant" from losing any momentum along the way. The result is a show that doesn't have any slow spots--one that feels not long, but big....
Time was when prim West End playgoers went in for bait-and-switch farces with titles like "No Sex Please, We're British" that took care to promise far more in the way of fornication than they ever delivered. While such plays have never had much luck on Broadway, that hasn't stopped David West Read from cooking up a homegrown counterpart of the same flyweight genre. Mr. Read's "The Performers" is a nominal comedy about a straightlaced couple (Daniel Breaker and Alicia Silverstone) who find themselves thrust among a gaggle of numbskulled porn stars (Jenni Barber, Ari Graynor, Cheyenne Jackson and Henry Winkler) who long for domestic tranquility in between cinematic couplings. I won't say that "The Performers" is the dumbest play ever to reach Broadway--the competition is stiff--but it may well be the first Broadway play in which five of the six characters are utterly, irredeemably brainless....
* * *
Read the whole thing here.
Excerpts from Signature Theatre's production of Giant:
Posted November 16, 2012 12:00 AM
Tell A Friend