« TT: Almanac | Main | FILM »
October 19, 2012
TT: Still shocking after all these years
Today's Wall Street Journal drama column is devoted in its entirety to the fiftieth-anniversary Broadway revival of Who's Afraid of Virginia Woolf? Here's an excerpt.
* * *
Fifty years, Edward Albee's "Who's Afraid of Virginia Woolf?" shocked theatergoers--but it also titillated them. Never before had Broadway seen a play that was so sexually frank, or one whose language was so coarse (even if it never got much rougher than "Screw you!"). Even more astonishing was the fact that these onstage shenanigans were enacted not by Stanley Kowalski and his beer-swilling New Orleans buddies but by a quartet of middle-class college-town types. Is it any wonder that thrill-seeking New Yorkers spent a year and a half lining up at the box office to see George, Martha, Nick and Honey joking about faculty bed-swapping while drinking themselves into a group stupor?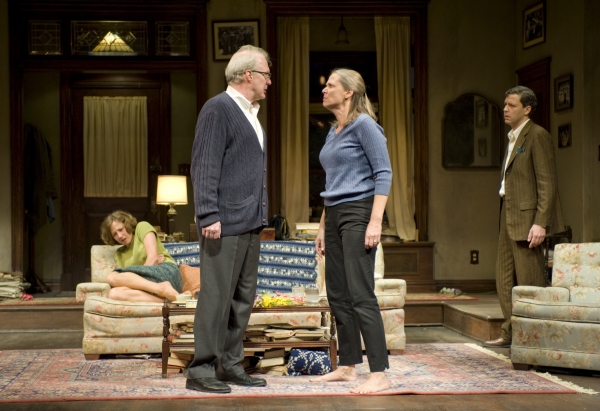 Nowadays, of course, it takes a lot more than that to raise an eyebrow, whether on Broadway or anywhere else. Even after Mr. Albee upped the ante by adding full-fledged four-letter words for the play's 2005 Broadway revival, "Who's Afraid of Virginia Woolf?" had long since been relegated to weak-tea status by David Mamet, Martin Scorsese and "The Sopranos." If mere titillation is what you crave, it isn't necessary to fork out three figures for an orchestra seat--just tune in "Jersey Shore." But if you want to be shocked all the way down to the marrow, "Virginia Woolf" can still do the job, as Steppenwolf Theatre Company proves with its cruelly potent production, which has just moved to Broadway after successful runs in Chicago and Washington, D.C. It is, like Mike Nichols' staging of "Death of a Salesman," a revival that peels away the years and makes a well-worn play seem not just fresh, but as immediate as a police blotter.
When I saw "Virginia Woolf" in Chicago two years ago, I was struck most forcibly by the acting. It's just as good now as it was then, so suffice it to say that Tracy Letts (of "August: Osage County" fame), Amy Morton, Madison Dirks and Carrie Coon are all giving utterly individual and memorable performances (especially Mr. Letts, who is at least as impressive as Arthur Hill, who created the role of George in 1962 and who subsequently documented his performance in an original-cast recording, which is how I know of it).
This time around, though, Pam MacKinnon, the director, deserves a solo turn in the spotlight. Ms. MacKinnon serves the texts of the plays that she stages so faithfully that it's easy to underestimate the clean-lined certainty of her work. Her "Virginia Woolf" is so precisely gauged in both timing and tone that you'll scarcely notice the moment at the end of the first act when comedy suddenly gives way to horror. It just happens, and all at once you realize that the frustrated, emasculated George, at whose bitchy quips the audience has hitherto been laughing merrily, is playing not for laughs but for blood....
* * *
Read the whole thing here.
An excerpt from Steppenwolf's revival of Who's Afraid of Virginia Woolf?:
A scene from Mike Nichols' 1966 film version, starring Richard Burton, Elizabeth Taylor, George Segal, and Sandy Dennis:
An excerpt from Columbia's studio recording of the original 1962 production, starring Arthur Hill, Uta Hagen, George Grizzard, and Melinda Dillon:
Posted October 19, 2012 12:00 AM
Tell A Friend