« TT: Due to circumstances beyond our control | Main | TT: The first reviews of Satchmo at the Waldorf—plus a video »
October 12, 2012
TT: Don't talk about the nose
In today's Wall Street Journal drama column I review the Roundabout Theatre Company's new production of Cyrano de Bergerac and the New York revival of Charlie Victor Romeo. Here's an excerpt.
* * *
Whenever a verse play opens on Broadway, and it's not by Shakespeare, chances are that it's "Cyrano de Bergerac." Indeed, Edmond Rostand's 1897 swashbuckler about the jumbo-snouted soldier who longs in vain for the love of a fair young maiden was produced there as recently as 2007. So why is the Roundabout Theatre Company putting on "Cyrano" five years later--especially since Kevin Kline played the title role last time around? Because Douglas Hodge, who won a Tony for his outrageous drag turn in the 2010 revival of "La Cage aux Folles," wanted to do it, and the Roundabout, not surprisingly, was glad to oblige him.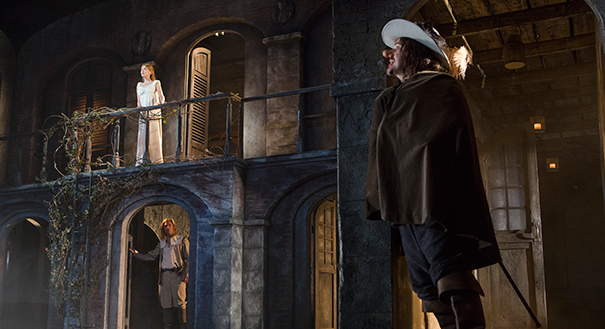 Can "Cyrano" stand to be revived so soon after Mr. Kline did it so well? Probably. Though it's not a masterpiece in the normal sense of the word, M. Rostand brought off the rarest of theatrical feats: He invented an icon. Even if you've never seen or read the play, you probably know who Cyrano was and what he looked like. What's more, "Cyrano de Bergerac" is a deluxe piece of stage hokum, one whose sincere romanticism--you feel for Cyrano from start to finish--is all but impossible to resist when delivered with the playful panache exemplified by its flamboyant hero. John Simon famously said of "Cyrano" that it is "not a great play, merely a perfect one." That's exactly right. It is to verse drama what "Stagecoach" is to Westerns or "Love Affair" is to 10-hankie weepers.
Mr. Hodge gets what "Cyrano" is all about, and in its quiet moments his performance is deeply moving--but there aren't enough of them. Not only is Jamie Lloyd's staging as noisy as a concert by a band of jackhammers, but the Roundabout's production makes use of a boisterous new rhyming translation by Ranjit Bolt that updates the play's language to inconsistent effect....
"Charlie Victor Romeo," in which Collective: Unconscious, a Manhattan-based experimental theater group, takes the transcripts of black-box recordings of six mid-air crises and turns them into an evening of you-are-there playlets, is back in New York after eight years on the road. It remains the scariest show in town, a shockingly compelling portrait of what happens in the cockpit of an airplane when everything starts to go wrong. Documentary plays tend to be both over-earnest and painfully ponderous, but "Charlie Victor Romeo" (the title of which is military alphabetic code for "cockpit voice recorder") moves so fast that you'll feel as though you'd looked the wrong way and stepped into a mile-deep pothole....
* * *
Read the whole thing here.
An excerpt from Charlie Victor Romeo:
Posted October 12, 2012 12:00 AM
Tell A Friend