« TT: Almanac | Main | TT: Almanac »
September 7, 2012
TT: Out of the wild blue yonder
In today's Wall Street Journal I review two Shaw Festival productions, Misalliance and Present Laughter. Here's an excerpt.
* * *
Only four Shaw revivals have been mounted on Broadway since the turn of the century, and few regional theaters are doing much better. Not so Ontario's Shaw Festival, which continues to present the plays of its namesake, most recently "Misalliance," on a blessedly regular basis. All praise to the festival for doing so, and for putting on so fine a production of so fascinatingly quirky a play.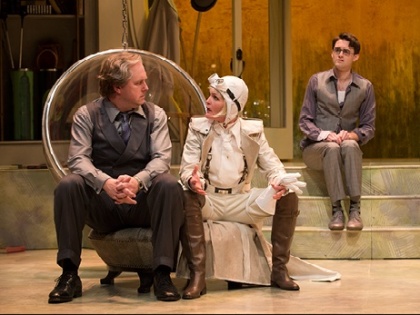 Shaw had started to pull away from the well-made neatness of his early stage works by the time "Misalliance" first opened in London in 1910. Michael Holroyd, his biographer, likens the play's fantastic events to something you might expect to encounter in the topsy-turvy world of Eugène Ionesco. Joe Orton was so struck by Shaw's plunge into the deep waters of absurdity that he used a line from the play as the epigraph to "Loot": "Anarchism is a game at which the police can beat you." The flavor of "Misalliance" lies somewhere in between these signposts. It's a giddy "debate in one sitting" (to quote Shaw's subtitle) in which a wrangle over marriage and its discontents is lightly disguised as a country-house farce....
Hypatia neatly sums up the play's major failing in this exasperated outburst: "Oh, if I might only have a holiday in an asylum for the dumb!...It never stops: talk, talk, talk, talk." Garrulity was always Shaw's weakness, and he never let himself go more completely than in "Misalliance." Those who, like Hypatia, favor action over words should seek their amusement elsewhere, but they'll miss a stylish staging in which Eda Holmes, the director, keeps the conversational ball bouncing from character to character with breezy effortlessness....
Permanent ensembles typically lack the star-driven firepower of a first-class commercial production. That's what's missing from the Shaw Festival's otherwise solid version of Noël Coward's "Present Laughter," which has been directed with special vividness by David Schurmann.
Coward wrote the part of Garry Essendine, the high-strung but irresistibly charming actor around whose whims "Present Laughter" revolves, for himself to play. Steven Sutcliffe, the very fine Canadian actor who is assuming the role at the Shaw Festival, doesn't make the mistake of trying to "do" the inimitable Coward, but he's still a size too small in the charisma department. If you readjust your expectations, though, you'll likely find Mr. Sutcliffe's performance to be both intelligent and convincing...
* * *
Read the whole thing here.
A trailer for the Shaw Festival's production of Misalliance:
Posted September 7, 2012 12:00 AM
Tell A Friend