« TT: You can quote him | Main | TT: Almanac »
June 22, 2012
TT: Return of a masterpiece
My drama column for today's Wall Street Journal is devoted in its entirety to an important Chicago revival of Adam Guettel's Floyd Collins. Here's an excerpt.
* * *
Before "The Light in the Piazza," there was "Floyd Collins," in which Adam Guettel and Tina Landau teamed up to create the first great post-Sondheim musical, a work of supremely compelling originality. But despite the warm critical response, the 1996 Off-Broadway premiere ran for just 25 performances, and though Nonesuch recorded a cast album that helped to keep memories of the show green, subsequent productions have been dismayingly scarce.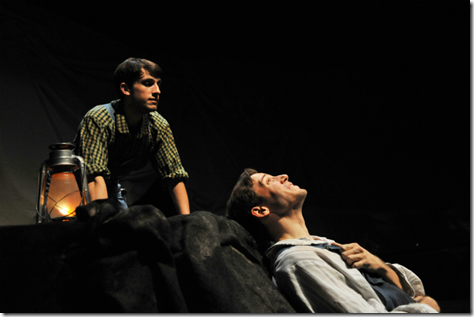 Now Chicago's Bohemian Theatre Ensemble, a small but ambitious company which bills itself as "BoHo Theatre," is mounting what appears to be the first big-city U.S. revival of "Floyd Collins" since 2003, when most of the original cast was reunited at New York's Playwrights Horizons for a five-performance benefit run. It's a major event, an extremely well-cast small-scale staging sensitively directed by Peter Marston Sullivan. Don't be fooled by the dirt-plain décor: This production has been rehearsed to the hilt, and the musical values of Mr. Guettel's deceptively simple-sounding songs emerge with absolute clarity. I can't imagine a better revival of a show that makes most of the Broadway musicals of the past decade look like shiny, tawdry junk.
The eponymous hero of "Floyd Collins" is the Kentucky explorer (played in Chicago by Jim DeSelm) who got himself trapped in an underground cave in 1925, dying of starvation and exposure two weeks later. In 1951 Billy Wilder made a movie, "Ace in the Hole," that showed how the hapless Collins was made over by the press into America's first modern media darling. Wilder's bleakly sardonic satire, however, has next to nothing in common with "Floyd Collins," in which Mr. Guettel's country-flavored, self-effacingly subtle score and Ms. Landau's spare book turn Collins' sad tale into a poignant portrayal of how rural America was robbed of its innocence by the coming of modernity....
* * *
Read the whole thing here.
Three "teasers" shot at rehearsals for the BoHo Theatre production of Floyd Collins:
Posted June 22, 2012 12:00 AM
Tell A Friend