« TT: Another chance to see Satchmo at the Waldorf | Main | GO TO HELLMAN »
June 1, 2012
TT: Next stop, Broadway
In today's Wall Street Journal I review two new San Diego-area musicals, Nobody Loves You and Hands on a Hardbody. Here's an excerpt.
* * *
In case you've been worrying that the American musical is all washed up, fear not: I just got back from San Diego, where I saw two noteworthy shows that filled me with hope. Granted, they're still in development, and one of them is considerably more finished than the other, but both of these shows are already far more interesting than any of the new musicals ("Once" excepted) that made it to Broadway last season.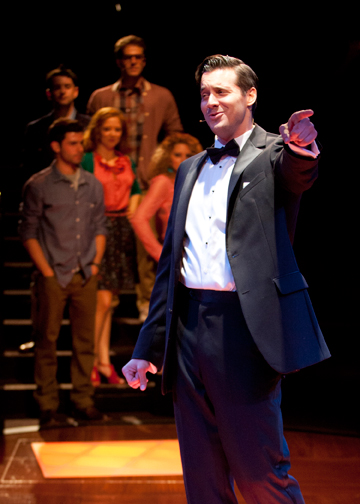 "Nobody Loves You," in which a geeky philosophy major (Adam Kantor) auditions for a "Survivor"-style reality TV show to make his ex jealous, could transfer to New York pretty much intact. The book, by Itamar Moses, is part open-hearted romcom, part dead-on satire (Mr. Moses, who has written for "Boardwalk Empire" and "Men of a Certain Age," knows his way around a TV studio). The songs, by Mr. Moses and Gaby Alter, are instantaneously catchy pop-rock ditties with brainy lyrics: "I hate naïve idealists/And cynical nihilists/I like open-eyed realists/With an idealistic core." Every number pushes the plot forward, resulting in a musical that seems even shorter than it is...
Truth to tell, this musical is close to bulletproof. It's tailor-made for Off Broadway, though I can just as easily see it transferring to a compact Broadway house like Circle in the Square. Either way, it has the smell of a hit....
The producers of "Hands on a Hardbody" announced on Wednesday that the show, commissioned by La Jolla Playhouse and currently running there, will move to Broadway this coming season. That's good news. Even though "Hardbody" still needs quite a bit of revision before making the big leap, it bears the unmistakable marks of a musical that is at once charmingly quirky and genuinely affecting...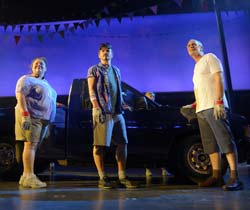 Directed by Neil Pepe and performed by a top-of-the-line ensemble cast led by Keith Carradine and Hunter Foster, "Hands on a Hardbody" is a fictionalized version of the much-admired 1997 film documentary about a Texas endurance competition whose contestants must keep one hand on a brand-new pickup truck until they walk away in frustration or collapse from exhaustion. The last man (or woman) standing wins the truck. The book is by Doug Wright, the author of "I Am My Own Wife," who has set "Hardbody" in the present, emphasizing the brutalizing effects of the recession on the 10 contestants...
Mr. Wright has done a lovely job of suggesting the way in which real-life Texans talk. Not only does he never condescend to his characters, but he even takes their old-time religion seriously. The score, by Amanda Green ("High Fidelity") and Trey Anastasio, who is better known as the guitarist of Phish, is uneven in spots, but all of the ballads are beautiful...
What's wrong? The premise of "Hardbody," whose characters are required to stand in one place most of the time, makes it too physically static to fill the space of a Broadway stage. In addition, Mr. Wright's book is loose-jointed to a fault....
Even in its present form, "Hardbody" is sweet, sincere, refreshingly uncynical and full of fine songs. That's a lot to like. All that's needed is craft to match.
* * *
Read the whole thing here.
The Old Globe's trailer for Nobody Loves You:
Excerpts from Hands on a Hard Body, the 1997 film documentary:
Posted June 1, 2012 12:00 AM
Tell A Friend