« TT: Almanac | Main | I AM MY OWN PLAYWRIGHT »
June 29, 2012
TT: A Fiddler in the Berkshires
In today's Wall Street Journal drama column I review two out-of-town shows, a Massachusetts revival of Fiddler on the Roof and the Chicago production of Freud's Last Session. Here's an excerpt.
* * *
If it's true--and it is--that they don't make musicals the way they used to, then "Fiddler on the Roof" is the last of the indisputably classic Broadway musicals to have been made the old-fashioned way. The songs are memorable, the book soundly constructed, and Jerome Robbins' dances, which are seen so often in modern-day revivals that they've come to be regarded as an inseparable part of "Fiddler," blend local color with fresh choreographic invention to perennially pleasing effect.
Barrington Stage Company, which puts on some of the best musical-comedy productions to be seen in New England, set the bar high for its new "Fiddler" last summer when it mounted a "Guys and Dolls" that was superior in every way to the inept 2009 Broadway revival. This "Fiddler" isn't that good--that would have taken a miracle of miracles--but it's lively and satisfying.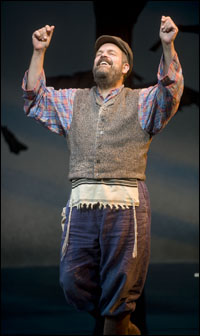 Gary John La Rosa, the director and choreographer, has opted for a conventional approach to "Fiddler," faithfully reproducing Robbins's dances, which are executed with energy and precision. Every scene pays off, especially the first-act dream sequence, and Jack Mehler's semi-abstract backdrops, in which the thatched roofs of the shtetl of Anatevka are strewn across the Russian sky like the flocks of birds that are seen in the paintings of Robert Goodnough, add a delicate touch of poetry to the proceedings....
Barrington Stage rang the cherries three years ago with "Freud's Last Session," the two-man play in which Mark St. Germain imagines what might have happened if Sigmund Freud and C.S. Lewis had met in London on the first day of World War II to wrangle over the question of God's existence. The Off-Broadway production of Mr. St. Germain's witty play, which opened in 2010, is still going strong, and "Freud's Last Session" is now being mounted by theaters across the country...
The long-running Chicago version of "Freud's Last Session," directed by Tyler Marchant, is an exact reproduction of Mr. Marchant's excellent Off-Broadway staging, right down to Brian Prather's meticulous rendering of Freud's London consulting room. What's new about it is Mike Nussbaum, the dean of Chicago actors, who is now playing the part of Freud. Mr. Nussbaum is 88 years old, though you wouldn't guess it to look at him. I've seen him onstage many times--his ferociously smug Shylock in Barbara Gaines' 2005 "Merchant of Venice" at Chicago Shakespeare is deeply etched in my memory--but Mr. St. Germain's Freud could have been written for Mr. Nussbaum, and his performance would make him a shoo-in for a Tony were he giving it on Broadway. He starts out calm and centered, a gray-bearded stoic who has gazed unflinchingly into the abyss. Only gradually does the intense physical pain from which Freud suffered manifest itself, but when it does, you'll shiver in your seat at the sight of a sick, weary old man who has nothing to look forward to but death....
* * *
Read the whole thing here.
An excerpt from the Chicago production of Freud's Last Session:
Posted June 29, 2012 12:00 AM
Tell A Friend