« TT: Almanac | Main | TT: Dietrich Fischer-Dieskau, R.I.P. »
May 18, 2012
TT: Shortening Shaw
Today's Wall Street Journal drama column is devoted in its entirety to a review of the Irish Repertory Theatre's revival of George Bernard Shaw's Man and Superman. Here's an excerpt.
* * *
"Man and Superman," first performed in 1905, is by common consent one of George Bernard Shaw's greatest and most significant plays, yet hardly anybody performs it today, for the understandable reason that an uncut performance runs for about five hours. This explains why it's been 33 years since "Man and Superman" was last seen on Broadway, and a quarter-century since it was last staged in New York. Now the Irish Repertory Theatre is presenting a carefully abridged, intelligently directed three-hour version of the mammoth play that Shaw billed as "a comedy and a philosophy." That's good news for serious-minded theatergoers--but is it good enough?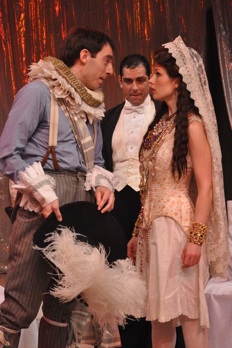 The answer may depend in part on how familiar you are with "Man and Superman." If you've never seen or read it, you probably won't suspect that you're seeing a version that's been cut so heavily, and you'll definitely come away with a clear sense of what Shaw was trying to do. Just as important, you'll also have a whale of a good time. This production, adapted and directed by David Staller, emphasizes the comic side of "Man and Superman" while managing to do justice to the play's philosophical aspect, and it has all the fizz of a case of Veuve Clicquot....
David Staller, who runs New York's Shaw Project and may know more about Shaw's theatrical work than anybody in America, has chosen to compress the entire play, including the "Don Juan in Hell" scene, in the hope of preserving its essence while reducing its scale. Insofar as such a thing can be done, he's done it, and the result is a performing version of "Man and Superman" that is both short enough to be practical and long enough to make sense. Indeed, it would be easy to write a review devoted in its entirety to the endless ingenuities of Mr. Staller's adaptation, into which he has cleverly woven aphorisms drawn from the "Maxims for Revolutionaries" that Shaw published as an appendix to "Man and Superman" and which are used here as scene-changing interludes.
It helps that this production, a collaboration between the Irish Rep and Mr. Staller's Gingold Theatrical Group, is extremely well acted--Mr. Moore in particular leaves absolutely nothing to be desired--and staged with propulsive comic force....
* * *
Read the whole thing here.
A trailer for the Irish Rep's Man and Superman:
Posted May 18, 2012 12:00 AM
Tell A Friend