« TT: Footnote to a triumph | Main | TT: Almanac »
May 4, 2012
TT: Not a hope in hell
In today's Wall Street Journal drama column, filed from Chicago, I review the Goodman Theatre's revival of Eugene O'Neill's The Iceman Cometh, directed by Robert Falls and starring Nathan Lane and Brian Dennehy. Here's an excerpt.
* * *
No matter how far you have to go to get there, the place to be right now is Chicago, where Nathan Lane and Brian Dennehy are starring in Robert Falls' Goodman Theatre revival of "The Iceman Cometh."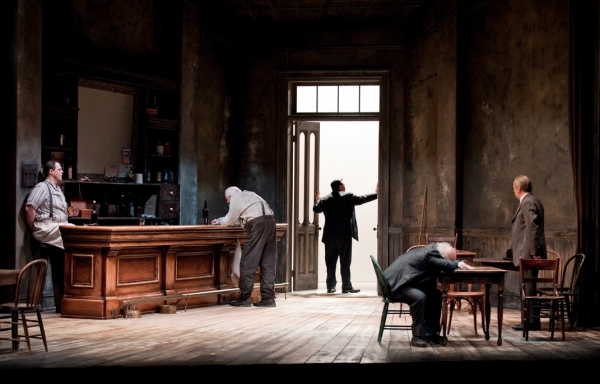 Productions of Eugene O'Neill's longest, most ambitious play are as scarce as $100,000 bills, not because anyone doubts the importance of "The Iceman Cometh" but because it is nearly five hours long and calls for a large cast led by a tireless actor who oozes charisma from every pore. That's why "Iceman" has been mounted only four times on Broadway, most recently in 1999, and never for more than a few weeks at a time. Regional revivals are no less rare--this is the first one of any consequence to be mounted in recent memory--and so Mr. Falls' "Iceman" would be worth seeing even if it were merely adequate. It is, in fact, extraordinary, a totally successful staging of a formidably difficult play in which Mr. Lane gives a performance that will stay with you for as long as you live....
Briskly paced and staged with proper attention to the humor without which the play can grind to a painful halt, this "Iceman" puts the author, not the director, in the spotlight. No overweeningly high concept has been imposed on the script. Instead we see it plain, enacted as a series of unostentatious tableaux that Natasha Katz has lit with a Rembrandt-like feel for chiaroscuro.
Mr. Lane, a first-rate actor who is usually content to appear in second-rate shows, rises to the occasion as effortlessly as he did in the 2009 Broadway revival of "Waiting for Godot." His Hickey is a cracked Babbitt who wears his straw hat at the jauntiest of angles, looking for all the world as though he were ready to break into the old soft-shoe. To see him disintegrate before your eyes in the last act is to gaze into the abyss...
* * *
Read the whole thing here.
An excerpt from Sidney Lumet's TV version of The Iceman Cometh, originally telecast on Play of the Week in 1960, starring Jason Robards, Jr., as Hickey:
A brief clip from the 1999 Broadway revival of The Iceman Cometh, starring Kevin Spacey as Hickey:
John Frankenheimer's 1973 American Film Theatre adaptation of The Iceman Cometh, starring Lee Marvin as Hickey and Robert Ryan as Larry:
Posted May 4, 2012 12:00 AM
Tell A Friend