« TT: A great singer—or was he? | Main | OGIC: Write a little »
May 25, 2012
TT: And then there were none
Today's Wall Street Journal drama column, filed from San Francisco, is devoted in its entirety to the American Conservatory Theater's revival of Samuel Beckett's Endgame, starring Bill Irwin. Here's an excerpt.
* * *
Even among geniuses, there's no accounting for taste: Samuel Beckett actually thought that "Endgame," first performed in 1957, was a better play than "Waiting for Godot." It is, to be sure, one of the key works of postwar European theater, but could it really be better than "Godot," the most admired and influential play of the 20th century? About that one may take leave to doubt. About American Conservatory Theater's revival, which stars Bill Irwin, the verdict is far more certain. While Mr. Irwin's performance is not wholly convincing, it works, and in every other way this is an ideal "Endgame," smartly cast, sensitively staged and glisteningly faithful to the author's intentions. Carey Perloff, A.C.T.'s artistic director and the director of this production, has done herself and her company proud.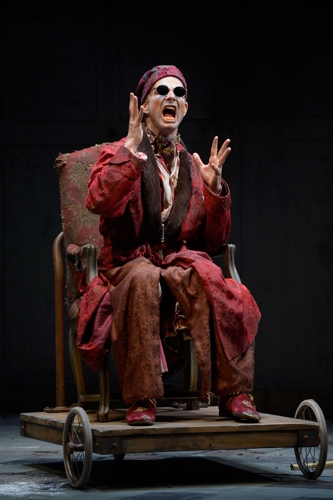 The play's not-quite-slapstick is enacted with delicate subtlety in Ms. Perloff's staging, and Mr. Gabriel's stiff-legged, sweetly patient and unexpectedly youthful Clov (a nice touch) is one of the finest interpretations of a Beckett role that I've had the privilege to see. Scarcely less convincing are Mr. Havergal and Ms. Oliver, who give the uncanny, absolutely convincing impression of having known one another for decades.
Mr. Irwin is, of course, a great performer, but he lacks the vocal resources of a great actor, and he seems no more comfortable playing Hamm, whose name clearly indicates his profession, than he was playing the similarly verbal George in "Who's Afraid of Virginia Woolf?" on Broadway. It isn't that he misunderstands Beckett. His performance as Vladimir in the 2009 Broadway revival of "Waiting for Godot" was masterly in its underplayed simplicity. But instead of unfurling Hamm's orotund utterances ("Can there be misery loftier than mine?") like a ripe-voiced ham actor, he speaks them in a fussy, over-decorated manner that doesn't quite hit the mark. What is memorable about his performance is its thwarted physicality....
"Endgame," which runs for an hour and a half, needs no curtain raiser, but Ms. Perloff has chosen to preface it with an identically effective performance of "Play," Beckett's 1963 skit about a husband, a wife and the Other Woman, all of whom are seated in giant urns (only their heads are visible). Though "Endgame" comes off better when performed on its own, Anthony Fusco, René Augesen and Annie Purcell are very much in tune with the unmistakably autobiographical black comedy of "Play," which moves at a brisk canter...
* * *
Read the whole thing here.
From the "Beckett on Film" series, the 2000 film version of Endgame directed by Conor McPherson and starring Michael Gambon, David Thewlis, Charles Simon, and Jean Anderson:
Posted May 25, 2012 12:00 AM
Tell A Friend