« TT: Almanac | Main | TT: And then there were none »
May 25, 2012
TT: A great singer—or was he?
In today's Wall Street Journal "Sightings" column I consider the long and illustrious career of Dietrich Fischer-Dieskau. Here's an excerpt.
* * *
The obituaries for Dietrich Fischer-Dieskau, who died last week at the age of 86, praised him without stint--and, for the most part, without qualification. The English tenor Ian Bostridge, who paid tribute to him in the Guardian, spoke for just about everyone when he called the German baritone "a titanic figure and a mirror of his age." You'd never guess from reading these heartfelt paeans that Mr. Fischer-Dieskau was also one of the most controversial artists of his age, or any other....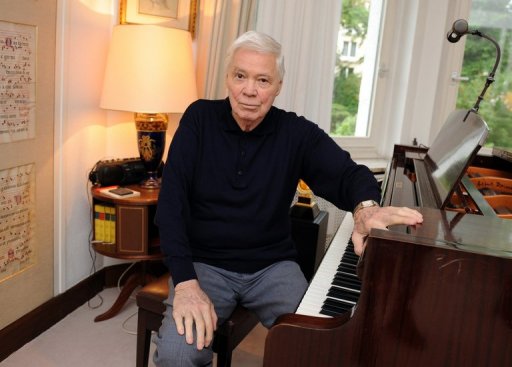 Needless to say, no one supposes that Mr. Fischer-Dieskau was anything other than an immensely gifted and consequential musician. Though he was best known as a recitalist, he also appeared frequently in opera, and he is believed to have made more recordings than any other classical performer, including a near-complete set of Schubert's 600 songs. He sang in the premiere of Benjamin Britten's "War Requiem" and performed with Leonard Bernstein, Alfred Brendel, Wilhelm Furtwängler, Vladimir Horowitz, Herbert von Karajan, Otto Klemperer, Murray Perahia, Sviatoslav Richter, George Szell and Bruno Walter, to name only a few of the giants of 20th-century music who were delighted to work with him....
Why, then, did so many listeners have such strong reservations about the man whom Time magazine dubbed "the world's finest lieder singer" in 1967? Because Mr. Fischer-Dieskau's style of singing was so individual, even idiosyncratic, that it left some people cold. Unlike the generation of recitalists that preceded him, he sang like an actor, not a storyteller. In his hands, each song became a first-person monologue, a confession of supreme intensity. Individual phrases, sometimes individual syllables, were subtly inflected so as to bring out their meaning. The effect was almost kaleidoscopic in its richness of dramatic nuance, and a listener who was used to the "simpler" style of an older singer like, say, Lotte Lehmann or Richard Tauber might easily find it over-sophisticated, even--yes--mannered.
Mr. Fischer-Dieskau's most ardent advocates were usually more than willing to admit to certain of his other flaws. Though he sang in a half-dozen languages, he never sounded comfortable in anything other than German, just as he was never fully at ease in any music other than the Austro-German repertoire. An essentially serious personality, he was all but humorless and self-confident to the point of arrogance, two stereotypically Germanic traits that occasionally crept into his performances....
All true--yet whenever you heard him sing Franz Schubert's "Erlkönig," Robert Schumann's "Mondnacht" or Hugo Wolf's "Anakreons Grab," to name just three of the dozens of art songs with which he was intimately identified, it was impossible, at least for the moment, to imagine anything more beautiful....
* * *
Read the whole thing here.
Dietrich Fischer-Dieskau sings Schumann's "Mondnacht" in 1974, accompanied by Wolfgang Sawallisch:
Posted May 25, 2012 12:00 AM
Tell A Friend