« TT: Almanac | Main | TT: Almanac »
April 6, 2012
TT: Eva Perón, superstar
In today's Wall Street Journal drama column I review the Broadway transfer of Evita and a rare revival of Eugene O'Neill's Strange Interlude. Here's an excerpt.
* * *
Andrew Lloyd Webber gets a lot of abuse, and deserves most of it--but not for "Evita," which is so much better than "Jesus Christ Superstar" that you wonder how both scores could have been composed by the same man. Whatever its deficiencies as history, "Evita" is a formidable piece of theater, and Michael Grandage's revival, which has now transferred to Broadway after a long run on London's West End, makes a wholly persuasive case for the 1978 musical in which Tim Rice and Baron Lloyd-Webber (as he is now officially styled) told how an Argentinian actress-tart found happiness by bedding and wedding an up-and-coming caudillo.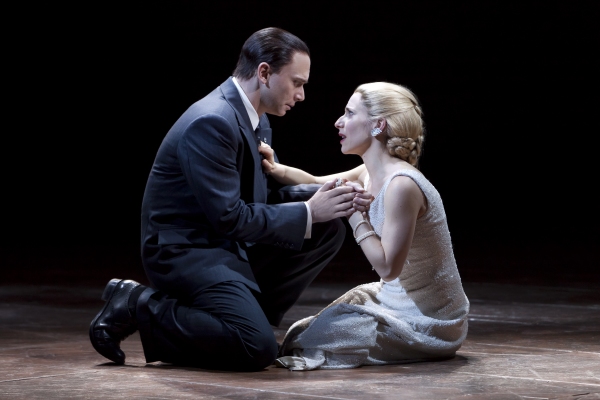 Though Mr. Rice is only a fair-to-middling lyricist, he has contrived to turn the tale of Eva and Juan Perón (Elena Roger and Michael Cerveris) into a compelling chronicle of love and politics, and the music is for the most part worthy of the occasion. As always, Mr. Lloyd Webber's tunes turn sugary whenever emotions run high, but his feel for large-scale scenic construction is unfailingly impressive. Much of "Evita," which has almost no spoken dialogue, holds together as well as any of the extended musical sequences in "Sweeney Todd." Heresy, I know, and I wouldn't dream of suggesting that "Evita" is worthy of direct comparison to Stephen Sondheim's masterpiece. Still, the best parts are good enough to make the worst parts tolerable...
I wish I could report that Ms. Roger is up to the challenge of the title role. No dice: She's a good actor and a wonderful dancer, but her voice is small and shrill, and she hasn't an ounce of star quality. Fortunately, Mr. Cerveris has more than enough to go around. To be sure, the part of Juan Perón is ungratefully small, but he plays it as though it were huge, and his stage presence is so electric that he steals the show from Ms. Roger in "You Must Love Me" without saying a word or moving a muscle, which is quite a trick. Ricky Martin is both likable and effective as Che, the strolling narrator...
If good intentions could make a show worth seeing, then Michael Kahn's staging of Eugene O'Neill's "Strange Interlude," the Pulitzer-winning play whose nine characters speak their inner thoughts out loud in the form of stream-of-consciousness asides and soliloquies, would be the most important theatrical production of the season. Though "Strange Interlude" was the talk of Broadway when it opened there in 1928, the play's extreme length (the original production ran for six hours, including a dinner break) made repeat performances rare, and it appears not to have been done anywhere since the short-lived 1985 Broadway revival. Mr. Kahn has thus done historically minded theatergoers a real service by mounting this abridged version, which he has trimmed to a not-quite-manageable three hours and 45 minutes.
Alas, "Strange Interlude" turns out to be so dated as to be utterly unrevivable. Not only do the ceaseless asides ("My heart pounding! How she'd laugh if she knew!") slow the action down to a clumsy crawl, but the abortion-and-adultery plot, which made the censors twitch in 1928, long ago became the stuff of daytime drama, while most of the dialogue sounds like a straight-faced parody of a Bette Davis movie....
* * *
Read the whole thing here.
An excerpt from the 1932 film version of Strange Interlude, starring Norma Shearer and Clark Gable, adapted from Eugene O'Neill's play by Bess Meredyth and C. Gardner Sullivan, and directed by Robert Z. Leonard. The asides and soliloquies spoken directly to the audience in the original stage version are filmed as voiceovers:
Posted April 6, 2012 12:00 AM
Tell A Friend