« TT: Almanac | Main | TT: How ya gonna keep 'em down on the farm? »
March 2, 2012
TT: Charles Laughton, genius
In today's Wall Street Journal "Sightings" column I write about the second career of Charles Laughton, during which he directed for the stage (The Caine Mutiny Court-Martial) and screen (The Night of the Hunter) and appeared in a one-man show whose unexpected success put him on the cover of Time.
Here's an excerpt.
* * *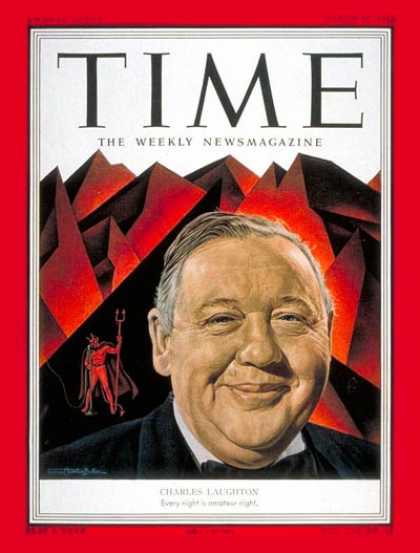 In 1947 Charles Laughton's career, if not quite on the skids, was definitely in the doldrums. Long acclaimed as Hollywood's foremost character actor, he had made only one film of any artistic consequence, Jean Renoir's "This Land Is Mine," in the past seven years. The rest of the time he coasted, frequently indulging in self-parody--and nobody was easier to spoof than the man who played Captain Bligh in "Mutiny on the Bounty" and Quasimodo in "The Hunchback of Notre Dame." He wouldn't have been the first actor to sell his soul for a swimming pool (or, in his case, an art collection). But with Laughton the waste would have been unforgivable, since he was, in Laurence Olivier's words, "the only actor I ever knew who was a genius."
Instead, Laughton fooled everyone by returning to the stage for the first time since 1936. Nor did he choose a safe star vehicle for his return: He played the title role in the U.S. premiere of Bertolt Brecht's "Galileo," and he translated the play himself.
If you've seen Classic Stage Company's current Off-Broadway revival of "Galileo," you know that Laughton's translation is nothing short of brilliant. But you may not be aware that it marked a turning point in his career. Yes, he kept on making second-rate movies and just-kidding TV guest shots to keep the cash flowing--but at the same time, he reinvented himself as an artist. His second life has been chronicled by Simon Callow, himself an outstanding actor and biographer, whose "Charles Laughton: A Difficult Actor," published in 1987, is one of the finest theatrical biographies ever written. Every page is a joy to read, but to my mind the best thing about the book is the way in which Mr. Callow tells how Laughton turned his career around.
After "Galileo," Laughton put together an informal school of young Hollywood actors (including Robert Ryan and Shelley Winters) whom he introduced to the transforming discipline of classical acting. Then he met Paul Gregory, an agent-producer who had the ingenious notion of sending him out on the road with a one-man show in which he read his favorite poems and prose works aloud with colossal relish. The show, which took in everything from Shakespeare to Jack Kerouac, was a huge success...
* * *
Read the whole thing here.
The original theatrical trailer for The Night of the Hunter:
Posted March 2, 2012 12:00 AM
Tell A Friend