« TT: Agnostics in paradise | Main | HOW CAN SKEPTICS MAKE GREAT RELIGIOUS ART? »
February 3, 2012
TT: Still angry after all these years
Today's Wall Street Journal drama column is devoted in its entirety to the Roundabout Theatre Company's revival of Look Back in Anger. Here's an excerpt.
* * *
It's disorienting to watch the film version of John Osborne's "Look Back in Anger" fifty-six years after the play on which it was based exploded onto the London stage. The history books assure us that Mr. Osborne swept away the genteel, well-made drawing-room comedies that had long dominated British theater, replacing them with blunt expressions of pent-up rage against the class machine. Yet the first thing you see on screen is an all-white, banjo-powered Dixieland band, for New Orleans-style jazz was the preferred music of England's "angry young men," as Mr. Osborne and his fellow rebels soon came to be known, back in the benighted days before the arrival of John, Paul, George and Ringo.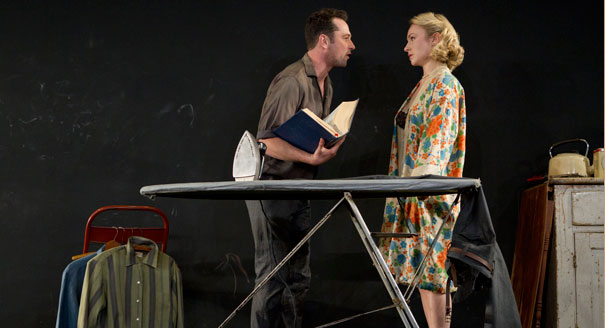 That's how dated "Look Back in Anger" is, and that's why it's surprising that the Roundabout Theatre Company's new revival, staged with flame-throwing éclat by Sam Gold, should be so theatrically potent. For not only is Mr. Osborne's first play a period piece, but it is an ultra-British period piece, one whose author, not surprisingly, failed to make a lasting impression on American theatergoers. No play of his has been seen on Broadway since 1969. Indeed, "Look Back in Anger" is being mounted at the Laura Pels Theatre rather than in one of the company's Broadway houses, which suggests a certain lack of confidence about its prospects at the box office.
This lack of confidence is understandable, since "Look Back in Anger" is culture-specific and time-bound in a way that presents real problems of understanding to Americans, especially those under 50, who know little of what England was like in 1956. But an effective production can overcome at least some of these problems, and this one is up to the mark, not least because Mr. Gold has fielded a top-of-the-line cast led by Matthew Rhys, who is so exciting as Jimmy Porter, Mr. Osborne's anti-hero and alter ego, that you'll likely be inclined to take his self-lacerating anger for granted rather than trying to puzzle out its source...
I suspect that the first half of "Look Back in Anger" is too deeply rooted in its time and place ever to be fully intelligible to the ordinary American theatergoer. If, on the other hand, you're capable of making sense of such postwar English novels as, say, Kingsley Amis' "Lucky Jim," then you'll have a pretty good idea of what's going on, and Mr. Gold's direction is so passionately precise that it contrives to make most of the rough places plain enough....
* * *
Read the whole thing here.
The opening scene of the 1958 film version of Look Back in Anger:
Posted February 3, 2012 12:00 AM
Tell A Friend