« TT: So you want to see a show? | Main | TT: Almanac »
December 8, 2011
TT: The end of the line
Since this is a theatrically crowded week in New York, I've written a special bonus drama column for today's Wall Street Journal that's devoted to Classic Stage Company's The Cherry Orchard and John Hurt's solo turn in Krapp's Last Tape. Both are sublime. Here's an excerpt.
* * *
Anton Chekhov's plays, sublime though they are, have a well-deserved reputation for being hard directorial nuts to crack. This may explain why "The Cherry Orchard" doesn't get done nearly as often as it should in this country. Take Classic Stage Company's ambitious "Chekhov Initiative" cycle, which has been, perhaps inevitably, a hit-or-miss affair in which a very fine "Seagull" directed by Viacheslav Dolgachev in 2008 was followed by Austin Pendleton's interesting but exceedingly uneven "Uncle Vanya" and "Three Sisters." This time around, though, CSC has covered itself in glory, giving "The Cherry Orchard" a staging directed by Andrei Belgrader and led by John Turturro, Juliet Rylance and Dianne Wiest that is as good as anything you're likely to see on a New York stage this season--or anywhere else, at any other time.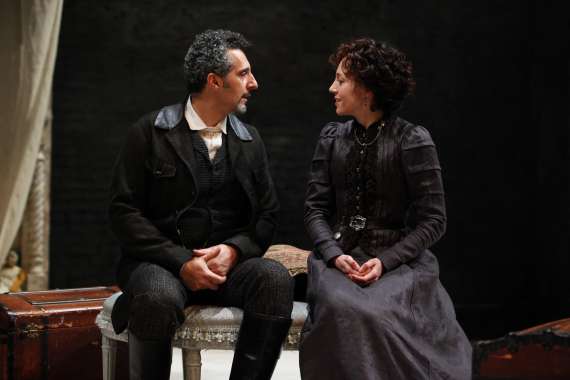 What makes Mr. Belgrader's "Cherry Orchard" so noteworthy? To begin with, he's struck the right balance between comedy and melancholy, which is the key to making Chekhov's masterpiece work onstage. If it's not funny, it becomes lugubrious; if it's too broad, like the slapsticky version that Boston's Huntington Theatre Company mounted four years ago, the results can swing perilously near vulgarity. Mr. Belgrader nails it, giving full value to the farcical side of the Gaevs, Chekhov's impoverished family of aristocratic landowners, without ever letting you forget that theirs is the plight of a once-dignified class that has reached the end of its rope.
While everyone in the stellar cast is on Mr. Belgrader's wavelength, it is Mr. Turturro whose performance is most essential to the effect of the production. He plays Lopakhin, the up-and-coming merchant who buys the estate on which his ancestors worked as slaves, with a bitter touch of Shylock-like vengefulness--yet he is no less alive to Lopakhin's ludicrous, even pathetic side....
Speaking of tough nuts, the Brooklyn Academy of Music's Next Wave Festival has imported Dublin's Gate Theatre revival of "Krapp's Last Tape," Samuel Beckett's hour-long 1958 "duologue" for an angry old writer (John Hurt, made up to look like Beckett himself) who listens to a tape recording of himself when young and can't stand what he hears. Indeed, he doesn't seem to like much of anything except bananas, a fruit for which he has a weakness bordering on compulsion.
"Krapp" is, like all of Beckett's plays, a black comedy of the utmost horror and despair, and Mr. Hurt, who famously played the title role in Atom Egoyan's 2000 TV version, is once again in perfect harmony with Krapp's agony....
* * *
Read the whole thing here.
John Hurt in the 2000 TV version of Krapp's Last Tape:
Posted December 8, 2011 12:00 AM
Tell A Friend