« TT: Almanac | Main | TT: That wild and crazy Messiah »
November 11, 2011
TT: The forgotten man of jazz
My "Sightings" column in today's Wall Street Journal is occasioned by the publication of the first biography of Norman Granz, Tad Hershorn's Norman Granz: The Man Who Used Jazz for Justice. Here's an excerpt.
* * *
According to Percy Shelley, poets--and, by extension, artists of all kinds--are "the unacknowledged legislators of the world." Yet the people who make it possible for artists to make art typically get even less acknowledgment. Agents, managers, editors, patrons, producers, art dealers, even the odd critic: All play pivotal roles in the creation and dissemination of art, but few are known by name save to insiders, and fewer still receive the posthumous credit that they deserve. Yes, Joe Orton's emergence as a major playwright was one of the great theatrical success stories of the '60s--but the author of "What the Butler Saw" might never have gotten anywhere if Peggy Ramsay, Orton's agent, hadn't taken him on. Yes, Jasper Johns is now universally acknowledged as a key figure in the history of postwar American art--but it was Leo Castelli's decision to show Johns' work at his gallery in 1958 that set the painter on the path to fame.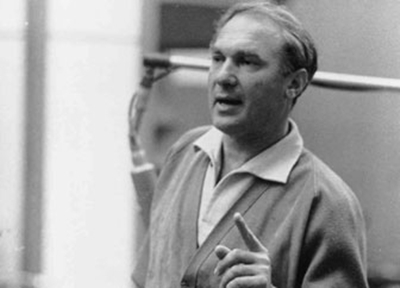 Nowadays the name of Norman Granz, who died in 2001, is known only to gray-headed jazz buffs, but there's a fair chance that you own at least one of the hundreds of albums that he produced for Verve, the record label that he founded in 1956. The "songbook" albums in which Ella Fitzgerald recorded her interpretations of the collected works of such classic songwriters as Harold Arlen, George Gershwin and Johnny Mercer were Granz's idea. So were the 14 albums taped at a series of marathon sessions in 1954 and 1955 in which Art Tatum, the greatest of all jazz pianists, recorded 120 stupendously virtuosic solo performances--nearly the whole of his working repertoire. So was Jazz at the Philharmonic, the now-legendary series of concert tours in which Granz brought together such illustrious artists as Fitzgerald, Duke Ellington, Stan Getz, Coleman Hawkins, Charlie Parker, Oscar Peterson, Buddy Rich and Lester Young....
Granz was notorious in the world of jazz for his arrogance. He was the kind of man who never hesitated to say that he knew better than you, even when he didn't. But when it came to the musicians he admired, he was genuinely modest. "He looks upon himself as a kind of conduit down which the music has flowed, that's all," one of his close friends said. "In that sense, he has no ego at all." That's why he was reluctant to cooperate with the many scholars who sought to chronicle his achievements. "I don't care about posterity," he told Mr. Hershorn. "I don't care about what I accomplished, if anything." Maybe he didn't--but posterity will....
* * *
Read the whole thing here.
This excerpt from "Improvisation," a 1950 promotional film produced by Norman Granz and directed by Gjon Mili, features Coleman Hawkins, Charlie Parker, Hank Jones, Buddy Rich, and Ray Brown in a performance of "Ballade":
Posted November 11, 2011 12:00 AM
Tell A Friend