« TT: Almanac | Main | TT: Almanac »
June 3, 2011
TT: Getting Follies right
In today's Wall Street Journal I cheer loudly for the new Kennedy Center revival of Stephen Sondheim's Follies. Here's an excerpt.
* * *
Of all the major postwar musicals, "Follies" may be the hardest to revive successfully. Not only was it one of the largest-scaled Broadway shows to come along prior to the Era of Falling Chandeliers, but the subject matter of "Follies," a caustic study of two middle-aged marriages gone sour, is disturbing in a way likely to put off casual dinner-and-a-show theatergoers. Factor in Stephen Sondheim's magnificent score, which is too musically complex to be done well by most theater companies and too popular in style to be done at all by most opera houses, and you've got a recipe for obscurity.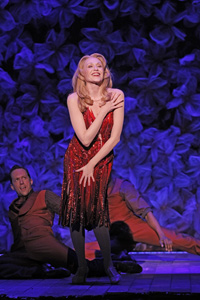 Yet "Follies" somehow keeps on getting done, albeit not often, and each production is a magnet for Mr. Sondheim's ardent fans, who will travel as far as necessary to see a performance, be it good, bad or indifferent. So it is great and glorious news indeed that the Kennedy Center's new revival, whose near-ideal cast includes Bernadette Peters and Jan Maxwell, is not just good but superlative....
One of the signal achievements of this "Follies" is that it succeeds in untangling each and every strand of the show's knotty plot. Most of the credit belongs to Eric Schaeffer, the director, whose Signature Theatre has produced more Sondheim revivals than any other regional theater company in America. Mr. Schaeffer is clearly unafraid of the darkness of "Follies," so much so that the first act is bitter enough to sting. Yet he and Warren Carlyle, the choreographer, just as clearly revel in the richness of the knowing pastiche songs with which Mr. Sondheim evokes the popular music of the pre-rock era. It helps that they were given a budget big enough to produce "Follies" on a grand scale--and to hire a top-flight set designer, Broadway's Derek McLane, with enough imagination to make the most of the materials at hand.
The result is a "Follies" that is superior in every way to the lackluster, ill-sung 2001 Broadway revival....

* * *
Read the whole thing here.
This rare home movie shot during a performance of the original 1971 Broadway production of Follies (with an overdubbed soundtrack recorded directly from the production soundboard) shows the transition to the second-act "Loveland" sequence. The set was designed by Boris Aronson:
Posted June 3, 2011 12:00 AM
Tell A Friend