« TT: Almanac | Main | TT: Almanac »
April 8, 2011
TT: She's got the zowie
In today's Wall Street Journal I have pretty good things to say about the Roundabout Theatre Company's revival of Anything Goes and great things to say about Sutton Foster, its star. Here's an excerpt.
* * *
Sutton Foster is a star without a sky. Like Kristin Chenoweth, she is a natural-born performer of good old-fashioned musical comedy who lives in an age when good old-fashioned musical comedies are no longer being written. A wholesome beauty with a voice as warm as summer sunshine, Ms. Foster has to date starred in only one first-rate show, "The Drowsy Chaperone," and until now she'd never appeared in a Broadway revival of a classic musical. The Roundabout Theatre Company's production of Cole Porter's "Anything Goes," directed and choreographed by Kathleen Marshall, isn't exactly that, nor is the show quite right for Ms. Foster, but her performance is so full of zowie as to overcome all possible objections. If she weren't already a star, this "Anything Goes" would make her one with room to spare.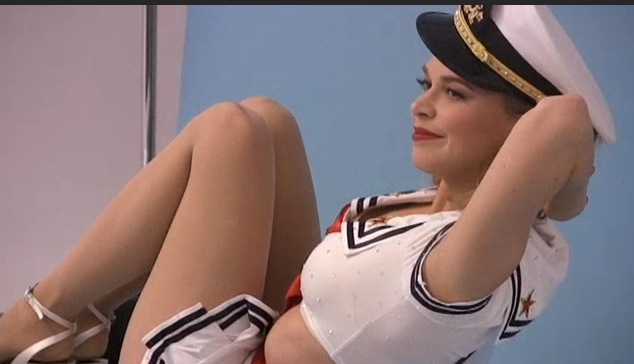 "Anything Goes" is a fluffy-headed farce about amorous shenanigans on a cruise ship in which Ms. Foster plays a hardboiled nightclub singer named Reno Sweeney who falls for the wrong guy (Colin Donnell) before finding the right one (Adam Godley). The role was written in 1934 for Ethel Merman, and Patti LuPone, a performer of like inclination, took it over in the 1987 Broadway revival. Unlike those famously tough gals, Ms. Foster isn't a naturally brassy dame, and there are times when it feels as though she's playing dress-up. Yet her singing is so lustrous and vibrant that you'll be glad to go along with the gag. She nails every syllable of Porter's tricky lyrics to the back wall of the theater--in "You're the Top" she even gives the uncanny impression that she's making them up on the spot--and when she uncoils her mile-long legs and flicks a forward pass at Mr. Donnell in the first scene, you'll whoop with delight....
The original "Anything Goes" featured three of Porter's best-known songs, "You're the Top," "I Get a Kick out of You" and the title number, and a book that was written by P.G. Wodehouse and Guy Bolton, then rewritten by Howard Lindsay and Russel Crouse (Wodehouse claimed that only two of his lines made it to Broadway). It is now, like most pre-"Oklahoma!" musicals, a bit on the quaint side, and so it's no surprise that the Roundabout is performing the much-altered version created for Lincoln Center Theater in 1987, an updated, commoditized "Anything Goes" into which three more Porter hits, "Easy to Love," "Friendship" and "It's De-Lovely," were shoehorned. Though its period feel was synthetic, the Lincoln Center version was still a huge success (it ran for 784 performances) and has since become the "standard" version of "Anything Goes." Alas, it's crammed full of rusty wisecracks that lost their crackle long ago, and since nobody seems inclined to dust off the original, one wonders why the Roundabout didn't call in David Ives to give the script a good going-over.
Ms. Marshall, who did so well by "The Pajama Game" and "Wonderful Town," takes a while to get going this time around, perhaps because the book is stale. Not until the title song, which wraps up the first act, do her dances catch fire. From that moment on, "Anything Goes" flies through the air with absolute assurance....
* * *
Read the whole thing here.
Ethel Merman and Bert Lahr sing "Friendship," originally telecast on a 1954 Colgate Comedy Hour production of Anything Goes:
Posted April 8, 2011 12:00 AM
Tell A Friend