« TT: Thanks a million | Main | TT: Almanac »
March 28, 2011
TT: How to succeed on Broadway
Finally, a rave: I review How to Succeed in Business Without Really Trying in Tuesday's Wall Street Journal, rapturously. This piece went up on the paper's Web site a couple of minutes ago, so I've decided to go ahead and publish it here as well. Here's a excerpt.
* * *
The professionals are back. Well into one of the dimmest Broadway seasons in recent memory, Rob Ashford has lit the lights with a smart and satisfying production of "How to Succeed in Business Without Really Trying," the Frank Loesser-Abe Burrows musical that taught a generation of viperine office politicians how to stick a shiv into their bosses without leaving any fingerprints on the handle. Needless to say, it's Daniel Radcliffe, better known as Harry Potter, who's filling the seats, but it's Mr. Ashford who deserves most of the credit for the artistic success of this hard-charging, high-flying revival of a show whose gleaming craftsmanship is as self-evident today as when it opened on Broadway a half-century ago.
Surely little need be said about the oft-celebrated virtues of "How to Succeed." For openers, it features a perfect score by Loesser in which every song pushes the action along briskly. Burrows, who also collaborated with Loesser on "Guys and Dolls," another entry on the short list of all-time great musicals, was primarily responsible for the book, which is put together with immaculate skill. And that brings us back to Mr. Ashford, who with "How to Succeed" establishes himself as one of the best comic choreographers on Broadway today. Not only are his dances full of perfectly realized visual punchlines, but they have an exhilarating momentum that serves the show without overwhelming the plot. Each number builds on its predecessor until you want to stand up and yell with delight--which, at show's end, is what you'll do....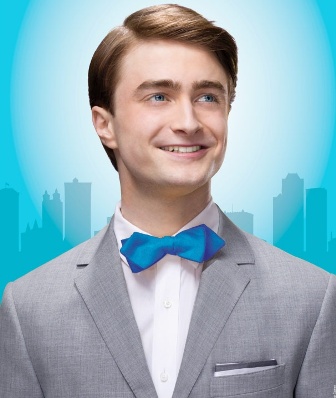 Of course you'll be wanting to know all about Mr. Radcliffe, and the answer is that he's a pretty good singer and an unexpectedly good dancer. His small voice is plaintive, well-tuned and rather sweet, which puts a fresh spin on the familiar character of J. Pierrepont Finch, who ascends from the mailroom to the boardroom with vertiginous speed. Mr. Radcliffe's Finch is a twinkly, huggable gent whose ruthless unscrupulosity is positively endearing.
The only problem with this approach is that Mr. Radcliffe doesn't have the vocal firepower needed to put his big number, "I Believe in You," all the way across the footlights, which causes the second act to sag briefly in the middle. But not to worry, for Mr. Ashford's staging of "Brotherhood of Man" is so propulsive that the energy level soars again, and Mr. Radcliffe is on top (literally) of every step. No, he's not Robert Morse, who created the role on Broadway, then filmed it in 1967. But who is--and so what?...
* * *
Read the whole thing here.
Robert Morse sings "I Believe in You" in the 1967 film version of How to Succeed in Business Without Really Trying:
Posted March 28, 2011 5:05 PM
Tell A Friend