« TT: Neither does he spin | Main | TT: Almanac »
February 4, 2011
TT: The saddest story
Today's Wall Street Journal is devoted in its entirety to a review of the new off-Broadway production of Three Sisters. Here's an excerpt.
* * *
In Ira Gershwin's lyric for "But Not for Me," a heartsick postmistress declares that love has brought her "more clouds of gray/Than any Russian play/Could guarantee." If I had to guess, I'd say that the lady in question had "Three Sisters" in mind. Few plays are more depressing than Anton Chekhov's soft-spoken study of a turn-of-the-century trio of provincial Russian women who long for the bright lights of Moscow but are forced to settle for ordinary small-town lives that bring them little in the way of joy. What makes their story endurable is the lightness of touch with which Chekhov tells it--which is also what makes it so agonizing to see their remaining hopes dissolve at play's end.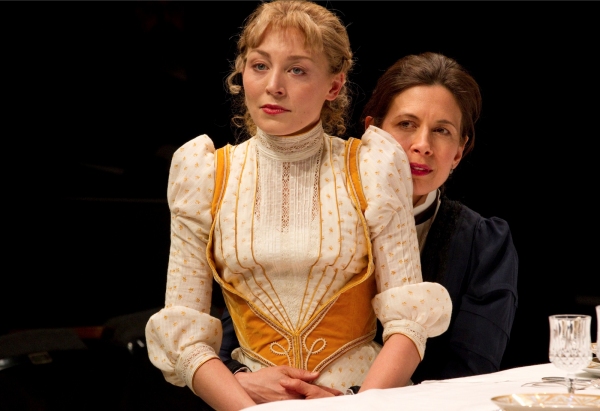 The sisters' tale is, of course, characteristically Russian in its jarringly close juxtaposition of comedy and heartbreak, and that is what poses the biggest difficulty to present-day interpreters: How do you make a play written in pre-revolutionary Russia in 1900 work in America in 2011? In the Classic Stage Company's new Off-Broadway production, Austin Pendleton is taking the same tack that he took two years ago in that company's "Uncle Vanya," which is to toss a group of modern-sounding actors into a traditional-looking setting and see what happens. The results are once again interesting but very uneven, though not so much as to keep Chekhov's great play from making its heart-breaking effect.
Mr. Pendleton's cast is full of familiar faces, some of whom also appeared in his "Uncle Vanya." The sisters are Maggie Gyllenhaal, Jessica Hecht, and Juliet Rylance, and of them it is Ms. Rylance who is most memorable. Her warm, throaty alto and utterly sincere demeanor are just right for Irina, the youngest and least disillusioned of the three sisters. Ms. Hecht also gives a strong and believable performance as the careworn Olga. Not so Ms. Gyllenhaal, a talented performer who is as wrongly cast here as she was in "Uncle Vanya," and for much the same reason: Her demeanor and voice are so obviously contemporary as to jolt the eye and ear....
* * *
Read the whole thing here.
Posted February 4, 2011 12:00 AM
Tell A Friend