« TT: Almanac | Main | TT: The girl in the kitchen sink »
December 10, 2010
TT: The man who said no to Hitler
For the past couple of months, I've been working my way through Adolf Busch: The Life of an Honest Musician, Tully Potter's massive two-volume biography of the greatest German violinist of the twentieth century, who is best known in this country for having co-founded the Marlboro Music School and Festival with Rudolf Serkin, his son-in-law and recital partner. Potter's book is far too long for the ordinary reader, but so wonderfully well written and researched that anyone with more than a casual interest in Busch and his times will find it an unexpectedly easy read.
Part of what makes Adolf Busch: The Life of an Honest Musician so interesting, though, is that it also contains a bitingly frank account of how Germany's classical musicians behaved under the Nazi regime. Busch, it turns out, was the only well-known non-Jewish German classical musician who conducted himself impeccably: he canceled all of his concert dates in Germany a few weeks after Hitler came to power in 1933, declaring himself to be disgusted by "the actions of my Christian compatriots against German Jews."
I knew that most German musicians had collaborated with the Hitler regime in one way or another, but I hadn't realized that Busch stood alone in his iron integrity. This fact inspired me to write a "Sightings" column for today's Wall Street Journal in which I talk about what Busch did, and why it still matters. Here's an excerpt.
* * *
Virtually all of the other big names in Austro-German music, including Wilhelm Furtwängler, Walter Gieseking, Herbert von Karajan, Carl Orff and Richard Strauss, stayed behind, some because they were active supporters of Hitler and others because they thought that the Nazis would dry up and blow away. Busch knew better. In a prophetic letter, he wrote, "Some of them believe that if they only 'play along,' the atrocities and injustice that are part and parcel of the movement will be tempered, can be turned around...they do not notice that they can only have a retarding effect, that the atrocities will still take place, only perhaps a bit later."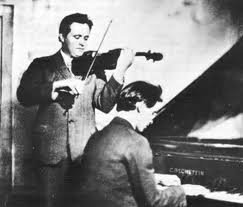 Busch's principled stand was motivated in part by the fact that many of his closest friends and colleagues were Jewish, including Serkin and Karl Doktor, the violist of the Busch Quartet. But the Nazis, who were keenly aware of the force of public opinion, were prepared to look the other way at such things in order to prevent prominent non-Jewish Germans from leaving the country in protest. As late as 1937, it was discreetly made known to Busch that if he returned, the Nazi government would let Serkin come back as well. "If you hang Hitler in the middle, with Goering on the left and Goebbels on the right, I'll return to Germany," he replied.
As anti-Semitic laws spread across the continent, Busch responded by cancelling there as well, and at the end of 1939 he, Serkin and the members of the Busch Quartet moved to the U.S. What happened next was a tragedy. Though Serkin was quickly able to establish himself as a top-tier soloist, America in the '40s had an oversupply of famous violinists and a limited appetite for chamber music. Busch was able to eke out a living, but his days of fame were over....
* * *
Read the whole thing here.
Posted December 10, 2010 12:00 AM
Tell A Friend