« TT: The man who said no to Hitler | Main | GALLERY »
December 10, 2010
TT: The girl in the kitchen sink
I went to Madison, New Jersey, last Saturday to see the Shakespeare Theatre of New Jersey perform I Capture the Castle. It was a knockout. Here's an excerpt from my review in today's Wall Street Journal.
* * *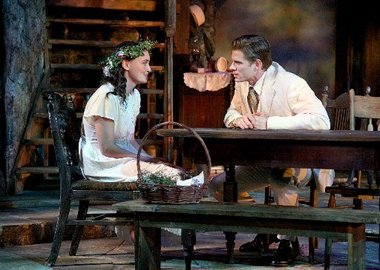 Doctors have a saying: "The dose makes the poison." If you're a playwright, charm works the same way. It's an indispensable part of the dramatic pharmacopoeia, but put in a pinch too much and a show can cloy. That doesn't happen in Dodie Smith's "I Capture the Castle," which is being performed for the first time on the East Coast by the Shakespeare Theatre of New Jersey. Not only does Smith's stage version of her fizzy 1948 novel about a clever young woman teetering on the brink of adulthood get the dosage right, but it has been impeccably directed by Cameron Watson and is being performed on a handsome set by an ideal cast. The word "irresistible" is rarely true, but I don't see how anyone not descended from Scrooge McDuck could fail to fall for "I Capture the Castle."
Smith, who died in 1990, was a British novelist and playwright who is best known for having written the book on which Walt Disney's "One Hundred and One Dalmatians" was based. While none of her plays went over big on Broadway, the original version of "I Capture the Castle" has become something of a cult favorite, winning fans as varied as J.K. Rowling and Donald E. Westlake. The 1954 stage adaptation, however, is all but unknown, and until now had only received a single American production four years ago in Los Angeles.
Mr. Watson, who directed the show there, has restaged it in New Jersey, bringing with him one cast member, Rebecca Mozo, who plays Cassandra Mortmain, the budding novelist who is the play's narrator. Cassandra, who sometimes likes to write while sitting in the kitchen sink, is a fey girl-woman who knows much of poverty--her impecunious family lives in a tumbledown castle--but nothing about men. "I know all about the facts of life," she says firmly. "And I don't think much of them." Then her life is turned inside out when two rich young Americans declare themselves to be the owners of the castle in which the Mortmains live....
Each member of the cast catches the exact tone of his or her character, above all Ms. Mozo, who brings off with sweet grace the tricky task of showing us Cassandra's discovery of the hurt of romantic love....
* * *
Read the whole thing here.
The theatrical trailer from the 2003 BBC film version of I Capture the Castle:
Posted December 10, 2010 12:00 AM
Tell A Friend