« TT: Almanac | Main | TT: Talking cure »
October 22, 2010
TT: One for the guys
In today's Wall Street Journal drama column I review the Broadway premiere of Lombardi, a play by Eric Simonson about the famous major-league football coach. Very much to my surprise, I liked it enormously. Here's an excerpt.
* * *
The question in the minds of just about everybody who's written about Eric Simonson's "Lombardi" to date is this: Who's going to go see a play about a football coach who died 40 years ago? If memory serves, the last sports-themed play to do really well on Broadway was Richard Greenberg's "Take Me Out," whose protagonist, a center fielder, is not only gay but biracial to boot. Somehow I doubt there's much of an overlap between the audience for "Take Me Out" and the target market for "Lombardi," whose title character, the Jesuit-schooled, fanatically competitive Vince Lombardi, was one of the straightest arrows ever to come out of the quiver (though he had a gay brother and was by all accounts tolerant of closeted football players). All this notwithstanding, the National Football League has put its marketing muscle behind "Lombardi" in return for a piece of the action, presumably operating on the assumption that there are plenty of men out there who don't usually go to Broadway shows (O.K., maybe they liked "Jersey Boys") but might be willing to make an exception for this one.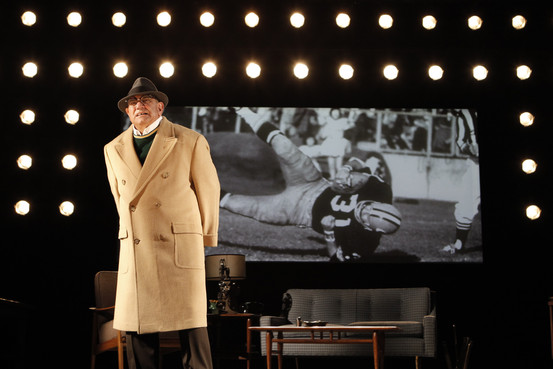 And why should you care? Because instead of cranking out a "Give 'Em Hell, Harry"-type exercise in feel-good historical hagiography, Mr. Simonson has given us an extremely well-crafted piece of intelligent middlebrow theater, a regular-guy equivalent of "Frost/Nixon." Such plays rarely make it to Broadway nowadays--the last one I saw there was "A Steady Rain," Keith Huff's two-man play about a pair of crooked Chicago cops--and this one, like "A Steady Rain" before it, is both tasty and filling. I know nothing about football and less about the Green Bay Packers, but "Lombardi" held my attention from start to finish, and when it was over, I went home feeling properly entertained....
Dan Lauria, whom TV viewers will remember from "The Wonder Years," knows a dream part when he sees one, and makes the most of this one. He plays Lombardi like a warmer but equally tough version of George C. Scott's Patton, and lurking beneath the buzzsaw bluster of his win-or-else tirades is a stealthy note of Pattonesque desperation, the fear that he'll blow his last chance to make it as a head coach....
* * *
Read the whole thing here.
Posted October 22, 2010 12:00 AM
Tell A Friend