« TT: They can't dance (don't ask them) | Main | TT: Almanac »
October 1, 2010
TT: A second Scoop
I have two separate drama columns in this morning's Wall Street Journal. In my regular column, which can be found in the Leisure & Arts section, I report on two exceptional Chicago revivals, Tom Stoppard's Night and Day and Peter Morgan's Frost/Nixon. Here's an excerpt.
* * *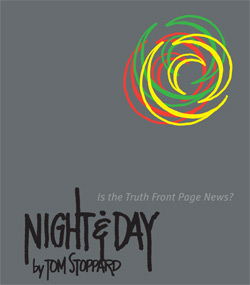 Remy Bumppo Theatre Company, which specializes in brainy, challenging scripts, is doing a real service to the republic of letters by reviving "Night and Day," the most obscure of Tom Stoppard's major plays. It had only a modest run on Broadway in 1979 and hasn't been performed anywhere in New York since 2001, and I regret to say that I think I know why. Mr. Stoppard's slightly-right-of-center opinions, which are anathema to most theater people, are rather easier than usual to discern from the plot of "Night and Day," in which Dick Wagner (Shawn Douglass), an amiably unscrupulous left-wing foreign correspondent, wanders into an unnamed African country in search of hot copy and stumbles onto a story that blows up in his face....
In truth, though, "Night and Day" isn't so much anti-liberal as anti-totalitarian (though Mr. Stoppard does see the closed shop as a form of totalitarianism, a point of view that will make him few friends on the left). It's also witty and heartfelt, especially in its sharp-eyed but sympathetic portrayal of Ruth Carson (Linda Gillum), an expatriate of a certain age whose too-placid marriage to an older man (played by David Darlow) has given her a wandering eye. The whole thing adds up to a modern-day counterpart of "Scoop," Evelyn Waugh's cynical fantasia about the hijinks of British journalists abroad, except that Mr. Stoppard's play is more serious, more realistic and much more moving.
This revival, directed by James Bohnen, the company's outgoing artistic director, is so good that it could be transplanted to Broadway exactly as is. The actors, many of whom have appeared together in other Remy Bumppo productions, work in awe-inspiring concord...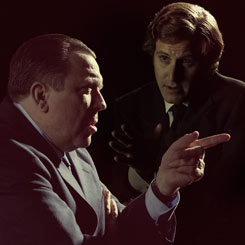 The more I see of Chicago's TimeLine Theatre Company, the more impressed I am by the way in which it goes about its self-defined task of producing historical dramas "that connect with today's social and political issues." That may sound like an eat-your-spinach-and-like it mission statement, but TimeLine takes great care to choose interesting plays, then mounts them in its 87-seat theater with a combination of panache and flamboyant physical dynamism that I find irresistible.
TimeLine's stripped-down stagings of Alan Bennett's "The History Boys" and Aaron Sorkin's "The Farnsworth Invention," a pair of smart but slick plays that didn't quite add up when I saw them on Broadway, were unequivocally superior to the original productions. Now the company has taken on a tougher nut, the Chicago premiere of Peter Morgan's "Frost/Nixon," a docudrama about the 1977 TV interviews in which David Frost grilled Richard Nixon about Watergate and got him to admit on camera that he'd "let the American people down." Superficial though it is, "Frost/Nixon" profited on Broadway and in London from a brilliant staging by Michael Grandage and an unforgettable portrayal of Nixon by Frank Langella, who repeated his performance in Ron Howard's 2008 film version of the play.
How do you top that? You don't. Instead, TimeLine has put a totally different, identically persuasive spin on "Frost/Nixon" by presenting it not in a Broadway-sized house but in an attention-focusing space that is itself scarcely bigger than a TV studio. Keith Pitts' semi-circular set subtly evokes the Oval Office from which Nixon retreated in disgrace, and Mike Tutaj's rear-wall projections transport the viewer from place to place with discreet finesse....
* * *
Read the whole thing here.
Posted October 1, 2010 12:00 AM
Tell A Friend