« TT: This must be the place | Main | TT: Almanac »
July 9, 2010
TT: Boys will be boys
In today's Wall Street Journal drama column, I report enthusiastically on two productions that I saw last weekend at the Hudson Valley Shakespeare Festival, plus the Ogunquit Playhouse's revival of The Sound of Music. Here's an excerpt.
* * *
Of all Shakespeare's "problem" plays, "Troilus and Cressida" is the one in which the problem is plainest to see: The two halves of the play don't seem to fit together. It starts out as a bawdy comedy of love in the Trojan War, then modulates abruptly into a furious study of how "fools on both sides" of an ultimately meaningless dispute can suddenly start piling up corpses for no good reason. Yet the play can be highly effective when mounted by a director savvy enough to equalize its tone. When Barbara Gaines staged it for Chicago Shakespeare Theater in 2007, she emphasized the darkness and violence to monumentally compelling effect. Now Terrence O'Brien, the artistic director of the Hudson Valley Shakespeare Festival, has flipped the coin and given us a ribald "Troilus" mounted with the lightest possible touch, and it works just as well.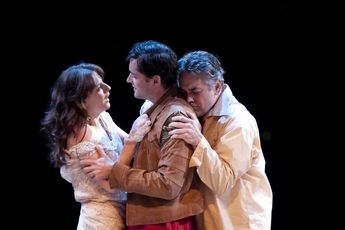 Mr. O'Brien, like Ms. Gaines, is a theatrical populist who never makes the fatal mistake of condescending to his audiences--or to Shakespeare. Rather than modernizing the setting of "Troilus," as most contemporary directors would do in order to make a difficult show more palatable, he plays it more or less straight, opting instead to infuse the production with an unequivocally modern energy. From the pop-culture references and pop-music score (at one point the women lip-sync a dance number set to Pomplamoose's cooler-than-the-original cover version of Beyoncé's "Single Ladies") to the lively acting of the conspicuously youthful players, this is a "Troilus" tailored to suit the needs of vacationers in a festive mood. Yet the boys-will-be-boys antics of the male members of the cast prove to be deadly serious, and when Thersites (Jason O'Connell) warns us that "war and lechery confound all," we know very well that these two things will soon be fatefully and devastatingly interwoven....
"Troilus" will be performed throughout the summer in rotating repertory with Kurt Rhoads' engaging production of "The Taming of the Shrew," which is set in the Swinging '60s and is graced--if that's the word--by the bra-burning, chainsaw-wielding Kate of Gabra Zackman, who is clearly having the time of her life and makes sure that you'll do the same....
Few musicals are more beloved--and get less respect--than "The Sound of Music," in which Richard Rodgers and Oscar Hammerstein turned the tale of how the Trapp Family Singers escaped from the Nazis into a child-friendly love story. Highbrows are understandably wont to dismiss "The Sound of Music" as vapid and saccharine, yet it was hugely successful on stage and screen and continues to be revived with fair frequency, though I suspect that most people now know it through Robert Wise's 1965 film version rather than from a staged production. It happens that I'd never seen the show performed live, so I drove up to Maine last week to take a look at the Ogunquit Playhouse's new production, and found it altogether charming. Sweet it most definitely is, but never cloyingly so, in large part because Gary John La Rosa's staging (unlike the over-opulent film) is modest and straightforward in both scale and tone....
* * *
Read the whole thing here.
The real-life Trapp Family Singers perform a Bach chorale in a recording made for RCA Victor shortly after they emigrated to the United States in 1938:
Posted July 9, 2010 12:00 AM
Tell A Friend