« TT: The unsure artist | Main | THE UNSURE ARTIST »
March 5, 2010
TT: What the right hand is doing
Today's Wall Street Journal column, written in the interstices of my service on a Manhattan jury, gives thumbs up to two new Broadway shows, Martin McDonagh's A Behanding in Spokane and the first Broadway revival of William Gibson's The Miracle Worker. Here's an excerpt.
* * *
When blood is shed in a Martin McDonagh play, the audience always laughs--and usually gasps. Mr. McDonagh is partial to comic violence, and in "A Behanding in Spokane" he lets it rip. I mustn't be too specific, this being a play full of grisly surprises, but there's one thing about which I can be absolutely precise: "A Behanding in Spokane" is the funniest new play to open in New York since I started writing this column.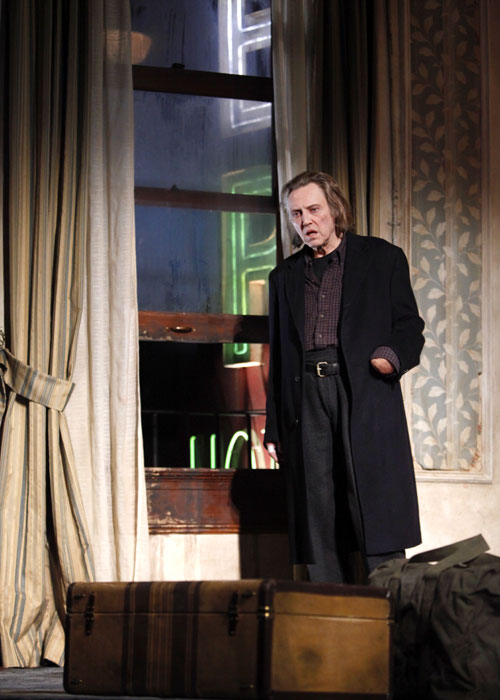 "Behanding" is the first of Mr. McDonagh's plays to be written specifically for Broadway and the first set on this side of the Atlantic, though I confess to finding his America hard to tell from his Ireland, both being full of more or less demented blabbermouths. In "Behanding" we meet four, the looniest of whom is Mr. Carmichael (Christopher Walken), a homicidal maniac who has spent the past 47 years searching for his left hand, from which he was involuntarily separated by "six hillbilly bastards" who lived to regret their little prank. Now he's gone to ground in a hotel managed by another fast-talking lunatic (Sam Rockwell) and is about to dispose of a couple of small-time crooks (Zoe Kazan and Anthony Mackie) who made the mistake of trying to sell him a phony hand.
You're welcome to interpret "A Behanding in Spokane" as a fable about two lost souls who have more in common than they realize--Mervyn, the hotel clerk, is fully as interesting a character as the mysterious Mr. Carmichael--or you can relax and revel in the virtuosity with which Mr. McDonagh stuffs wildly funny words into the mouths of his cast. Either way, you'll spend an hour and a half laughing nonstop....
William Gibson's "The Miracle Worker," first seen on Broadway in 1959, is the inspirational story of a secular saint, Helen Keller, who overcame the direst of handicaps (an illness left her blind and deaf when she was 19 months old) to become a legend in her own time. It is also a tour de force for a child actress, which is a polite way of saying that "The Miracle Worker" is a theatrical stunt, a play whose star (Abigail Breslin) speaks only one word, "wa-wa," spending the rest of the evening grunting, moaning, kicking her co-star and throwing food every which way. But if "The Miracle Worker" is a stunt, it is a wholly honorable one, and no one can fail to be moved when Annie Sullivan (Alison Pill), Keller's teacher, parts the dark curtain of her handicap and leads her by the hand into the bright world of language.
Prior to this production, "The Miracle Worker" had never been revived on Broadway, presumably because it was made into a hugely successful, deservedly well-remembered movie in 1962. Now it has been mounted as a vehicle for the 13-year-old Ms. Breslin, who was delightful in "Little Miss Sunshine" and is downright remarkable in "The Miracle Worker." Her empty stare, anguished howls and frantic physicality add up to a jarringly intense performance, and the inner glow that lights her face when she first realizes that everything in the world has a name is the stuff first-class acting is made of....
* * *
Read the whole thing here.
Here's a clip from a 1928 newsreel featuring the real-life Helen Keller and Anne Sullivan:
Posted March 5, 2010 12:00 AM
Tell A Friend