« TT: Captain Bligh's good turn | Main | A TOUR OF "HELL" IN EVENING DRESS »
February 5, 2010
TT: Your town, too
Today's Wall Street Journal drama column is a double-barrelled rave in which I praise to the skies the third and last installment of Horton Foote's Orphans' Home Cycle and Venus in Fur, a new play by David Ives. Here's a excerpt.
* * *
Now that I've seen all three installments of "The Orphans' Home Cycle," Horton Foote's dramatic portrait of a small-town Texas family, I can say with certainty what I suspected from the outset: Foote, who died last March, left behind a masterpiece, one that will rank high among the signal achievements of American theater in the 20th century. We owe it to Michael Wilson, the director of this joint production of New York's Signature Theatre Company and Mr. Wilson's own Hartford Stage, that the nine plays on which "The Orphans' Home Cycle" is based, which were originally written between 1974 and 1997, are being presented as a unit at last--and that they are being performed with such sympathy and sensitivity as to make their virtues instantly manifest....
"The Orphans' Home Cycle" is "Our Town" in macrocosm, a giant canvas on which Foote has portrayed everyday American life so knowingly that all of us can find ourselves somewhere in his great mural.
Mr. Wilson, working in the closest possible collaboration with the members of his design team, has given this production the easy flow of a movie--except that it's far more intimate. Scene dissolves into scene so naturally that you feel less like a spectator than a member of the family, sitting at the kitchen table and watching real life run its course....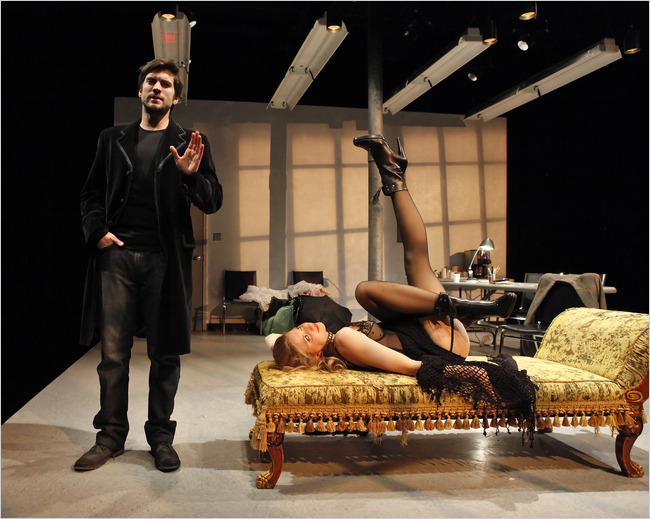 David Ives used to specialize in witty one-act comedies. In recent years, though, he's expanded his canvas, and "Venus in Fur," like "New Jerusalem" and "Polish Joke" before it, shows that the author of such surreal sketches as "Philip Glass Buys a Loaf of Bread" and "Variations on the Death of Trotsky" has grown into a playwright of considerable consequence--which doesn't mean that he's lost his sense of humor. "Venus in Fur," a 90-minute two-hander performed on a single set, actually feels a bit like one of Mr. Ives' one-act plays writ large, though it cuts much deeper, both intellectually and emotionally....
Though "Venus in Fur" is deadly serious, much of it is also madly funny, and Mr. Ives strews one-liners in every direction with prodigal generosity. Nina Arianda, who has most of the best ones, detonates them with the accuracy of an atomic clock. This is her first professional role of any consequence--she graduated from New York University last year--and I have no doubt whatsoever that we're going to be seeing a whole lot more of her. She has star quality oozing from every pore....
* * *
Read the whole thing here.
* * *
Trailers for the first two installments of The Orphans' Home Cycle:
Posted February 5, 2010 12:00 AM
Tell A Friend