« TT: Almanac | Main | CAAF: The classics »
August 4, 2009
CAAF: Dorothy goes to Hollywood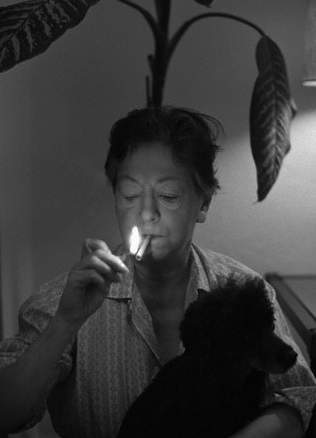 A great post on TCM's blog examines Dorothy Parker's career as a screenwriter in Hollywood, including the 15 films she worked on with partner Alan Campbell. I knew Parker hated her time in Hollywood -- as the post's writer Moira Finnie notes, friends of Parker's would later tell of coming across her at Hollywood parties crying into her drink, "I used to be a poet" -- but Finnie goes beyond the usual anecdotes to look more particularly at the scripts Parker wrote and doctored. While she finds that "it's difficult to discern a clear thread of Parker's incisive wit" in the scripts, she does unearth sparkles of it here and there:

For Alfred Hitchcock's Saboteur (1942), Dorothy Parker (without Campbell, apparently), was asked to spruce up the finished Peter Viertel and Joan Harrison script about the wrongly accused factory worker (Robert Cummings) running for his life from the police and the real fifth columnists. A memorable scene featuring some vexatious circus freaks debating whether or not they should hide the fugitives (a reluctant Priscilla Lane and Cummings), the dialogue among the romantically minded Bearded Lady, the argumentative Siamese Twins and the belligerent dwarf was written by Parker, to Hitchcock's delight. Parker was even persuaded to appear in the film as a passenger in a scene with Hitchcock in a car passing by as the desperate kidnap victim Lane struggled with Cummings by the side of the road (seen above). "My," Dorothy's character murmurs, "they must be terribly in love."
Related: At Jacket Copy, what Parker told the Paris Review about her time in Hollywood.
Posted August 4, 2009 12:33 PM
Tell A Friend