« TT: So you want to see a show? | Main | TT: Almanac »
May 21, 2009
TT: Cross-country run (IV)
I know my limits, and I reached them on Monday and acted accordingly. Instead of driving around Dallas in search of cultural experiences and/or barbecue, I spent the day in my hotel room, emerging only to eat breakfast, visit the fitness center, and go to Theatre Three that evening to see the rare revival of Lost in the Stars, Kurt Weill's musical version of Alan Paton's Cry, the Beloved Country, that had brought me to town. The fact that it was Monday, meaning that the museums were closed, prevented me from zooming off to the Kimbell Art Museum in Fort Worth, which I would doubtless have felt obliged to do on any other day of the week.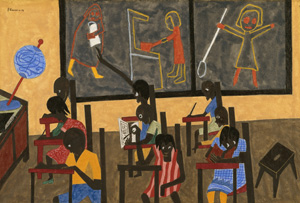 On Tuesday I behaved only slightly less prudently, flying to Kansas City in the morning and going straight from the airport to the Nelson-Atkins Museum of Art, which is in the same neighborhood as my hotel and the theater where the Kansas City Repertory Theatre is performing David Ives' new version of Georges Feydeau's A Flea in Her Ear. My plan was to visit the museum just long enough to get a look at the exhibition of American art on paper that went up last month. Alas, nobody told me that the Nelson-Atkins is closed on Mondays and Tuesdays! Fortuitously stymied, I drove to the hotel and spent the rest of the afternoon on my back, giving myself just enough time to dine at Winstead's before reporting to the theater at six-forty-five.
Yesterday was...well, let's just say it was long. Or maybe looong would be a better way to put it. I got up in the morning, wrote and filed my Friday drama column for The Wall Street Journal, then drove three hundred and seventy-nine miles to Smalltown, U.S.A., where my mother was standing in the doorway, beaming like a searchlight.
Yes, I have a couple of reviews to write while I'm here, but insofar as it's possible for me to drop the reins, I plan to do so between now and next Tuesday, when I fly back to Washington, D.C., to see Design for Living. Pops is finished and The Letter out of my hands, both of which should make it easier for me to relax. I promised my mother that I'd take her on a picnic, and I promised Mrs. T that I'd sleep late every day. Never let it be said that I'm not a man of my word!
(To be continued)
Posted May 21, 2009 12:00 AM
Tell A Friend