« TT: Rear-view mirror | Main | CAAF: Other people's status updates »
April 24, 2009
TT: Laugh and the world cries with you
It never occurred to me when I saw the Milwaukee Repertory Theater's production of The Norman Conquests in 2007 that I'd get a second chance to see and review Alan Ayckbourn's rarely performed comic triptych. Life is full of surprises! In today's Wall Street Journal drama column I review the Broadway revival of The Norman Conquests and the New York transfer of the Donmar Warehouse's production of Mary Stuart. Here's an excerpt.
* * *
Alan Ayckbourn writes funny plays about sad people. It's an unsettling combination, which may explain why England's most popular and prolific playwright isn't as well known in this country as he ought to be--but if anything can put Mr. Ayckbourn at the center of our theatrical map, it'll be the Old Vic's razor-sharp revival of "The Norman Conquests," which has come to Broadway after a triumphant London run. This 1973 triptych of plays about the travails of a suburban family is one of the 20th century's comic masterpieces, and the Old Vic's production is as good a staging as you're likely to see in your lifetime.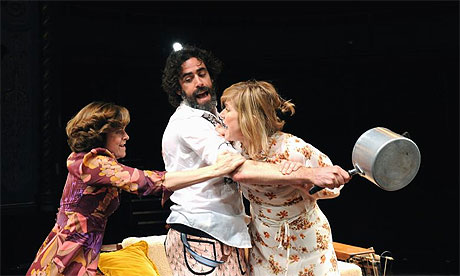 "The Norman Conquests" has only been presented once in its entirety in America since it was last mounted on Broadway in 1975. The reason for this is self-evident: It's a hugely complicated undertaking. The three interlocking plays of which "The Norman Conquests" is comprised take place during the same period of time--a single weekend--and feature the same six characters, but are set in different parts of the same house. Mr. Ayckbourn, who specializes in this kind of theatrical trickery, has written "Table Manners," "Living Together" and "Round and Round the Garden" in such a way that each play makes sense when seen on its own. Watch all three, though, and you get the full picture in all its proliferating chaos: Norman (Stephen Mangan), who is married to Ruth (Amelia Bullmore), is simultaneously having an affair with Annie (Jessica Hynes), Ruth's younger sister, and trying to seduce Sarah (Amanda Root), the wife of Reg (Paul Ritter), the brother of Annie and Ruth. Got that? Now stir in Character No. 6, a good-hearted but thick-witted veterinarian (Ben Miles) who longs in vain for Annie, and the three parts of "The Norman Conquests" are off and running.
What makes "The Norman Conquests" more than a farcical romp is the slate-gray background of disappointment against which the characters do their frenzied dance of misbegotten love....
Matthew Warchus is well aware of the bleak undertones of "The Norman Conquests." He went so far in a recent interview as to claim that he'd directed the triptych "as if it's Chekhov." I wouldn't go quite as far as that: Mr. Warchus is a master of physical comedy, and each installment is full of the same knockabout antics that can be seen in his production of "God of Carnage." But he also understands the delicate art of silence, and "The Norman Conquests" is no less full of moments when the laughter dies away and all you can hear is the keening sound of sorrow....
Speaking of British imports, the Donmar Warehouse's acclaimed production of "Mary Stuart" has also moved to Broadway for a limited run whose snob appeal will doubtless be considerable. Peter Oswald's new English-language adaptation of Friedrich Schiller's 1800 verse play about the bloody quarrel between Mary, Queen of Scots (Janet McTeer) and Elizabeth I (Harriet Walter) is cut to the bone, slightly modernized and mostly stripped of poetry. A prosy "Mary Stuart" would seem to be a contradiction in terms, but Ms. McTeer, Ms. Walter and their supporting cast conduct themselves as though they were appearing in "Henry V," and the collective effect of their virtuoso performances goes a very long way toward ennobling Mr. Oswald's plain-Jane script....
* * *
Read the whole thing here.
This is the opening scene of the first installment of the 1977 ITV television production of The Norman Conquests, directed by Herbert Wise:
Posted April 24, 2009 12:00 AM
Tell A Friend