« TT: Tinkering with beauty | Main | TT: At long last »
April 17, 2009
TT: August Wilson's gone and come
I rejoice to report in today's Wall Street Journal drama column that Lincoln Center Theater's Broadway revival of August Wilson's Joe Turner's Come and Gone is first-rate in every way. Not so, alas, the Broadway transfer of Next to Normal. Here's an excerpt.
* * *
Broadway and August Wilson never quite got along. All ten of his plays about black life in 20th-century America were seen there--finally--but their runs were usually short, and Lincoln Center Theater's new production of "Joe Turner's Come and Gone" is only the second Broadway revival of any of Wilson's plays. That isn't exactly surprising. It's only been in recent years that Broadway producers have started making a concerted attempt to reach out to black audiences, and Wilson's last three plays, "King Hedley II," "Gem of the Ocean" and "Radio Golf," were far less effective than the ones that came before them. But "Joe Turner," which was last seen on Broadway for three months in 1988, is out of his top drawer, and this revival, whose magnificent cast has been directed by Bartlett Sher with uncommon sensitivity, might just manage to break the late playwright's long string of bad luck.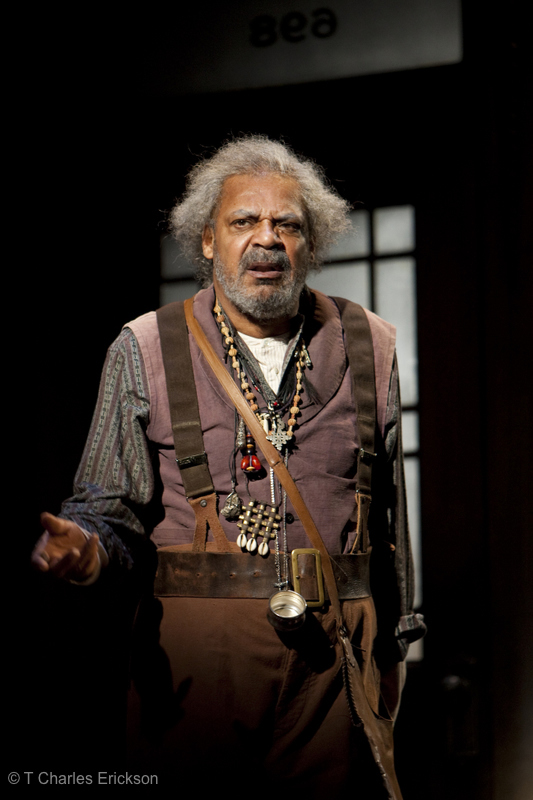 Or not: "Joe Turner's Come and Gone" is a long, occasionally knotty play that asks much of its viewers, and Broadway has become an increasingly inhospitable place for serious drama. Nowadays it generally takes a Hollywood star to keep a straight play open, and no one in "Joe Turner" has that kind of drawing power. So let me put it as simply as I can: This is a show you must see. Like David Cromer's Off-Broadway revival of "Our Town," it will remind you of how good live theater can be...
Every August Wilson revival that I've covered in this space in the past few years has been staged in a style best described as smell-the-coffee realism. (The Signature Theatre Company's 2006 Off-Broadway revival of "Two Trains Running" actually had a working coffee pot on stage.) Mr. Sher and Michael Yeargan, his designer, have taken a different tack, situating the action of "Joe Turner" in a stylized, semi-abstract playing space that is meant to underline the play's expressionistic aspect. While I didn't find the décor wholly persuasive--Mr. Yeargan's complicated set has a few too many moving parts--I very much appreciated Mr. Sher's willingness to break with tradition, and his cast clearly appreciates the freshness of his approach....
It took Jimi Hendrix three and a half minutes to tell the world that "manic depression is a frustrating mess." Tom Kitt and Brian Yorkey spend two and a half hours saying the same thing in "Next to Normal," a musical about a suburban mother (Alice Ripley) who suffers from a case of bipolar disorder so incapacitating that it has made her suicidal and left her husband (J. Robert Spencer) and daughter (Jennifer Damiano) at the ends of their fast-fraying ropes. The idea isn't unpromising, but Mr. Yorkey's glib book and artless lyrics boil down to an evening-long whine of let-me-tell-you-all-about-how-I-feel narcissism...
* * *
Read the whole thing here.
Posted April 17, 2009 12:00 AM
Tell A Friend