« TT: Almanac | Main | TT: Fifty-three and counting »
February 6, 2009
TT: Date with an angel
I'm back in New York--finally--and this week's Wall Street Journal drama column contains the last fruits of my recent coast-to-coast travels. In addition to looking in on William H. Macy's replacement performance in the Broadway revival of Speed-the-Plow, I review Shakespeare & Company's Bad Dates in Lenox, Massachusetts, and Shattered Globe Theatre's The Little Foxes in Chicago. Here's an excerpt.
* * *
How good can a fair play be? Pretty wonderful, actually--if you cast it right. Theresa Rebeck's "Bad Dates," which opened Off Broadway in 2003 and has since become a regional-theater staple, is the story of a ditsy Texas waitress with 600 pairs of shoes who moves to Manhattan, goes on a string of increasingly unsatisfactory dates, falls in with a bunch of Rumanian gangsters and finds love without doing hard time. On paper it's a cleverly written, overly cute one-woman romcom--and soi t remained when I saw Julie White play it at Playwrights Horizons six years ago. But Elizabeth Aspenlieder, a splendid stage comedienne whose zany acting is part of what makes Shakespeare & Company the best theater company in the Berkshires, has miraculously contrived to turn Ms. Rebeck's modest little show into a poignant slice of urban life that also happens to be drop-dead funny.
How does Ms. Aspenlieder pull off this improbable act of theatrical alchemy? By taking the wise advice of Alan Ayckbourn: "Concentrate on the truth of the scene. Let the comedy take care of itself." Unlike Ms. White, who played Haley Walker, Ms. Rebeck's hapless heroine, as a charming caricature, Ms. Aspenlieder makes her as real as a pink slip in December. It's not that she stints on the silliness--nobody pulls a crazier face--but she also takes care to show us the bruised rue behind the punch lines...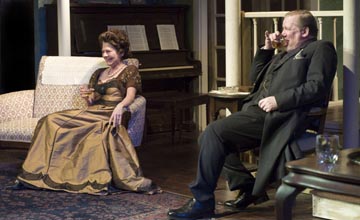 Intimacy is one of the most powerful weapons in the theatrical arsenal, as Chicago's Shattered Globe Theatre is demonstrating with its eye-opening production of "The Little Foxes," directed with uncommon finesse by Brandon Bruce.
Lillian Hellman's 1939 play about a greedy family of Southern scoundrels is a well-made melodrama whose characters are so broadly drawn as to border on the operatic (Marc Blitzstein actually turned it into an opera, "Regina," in 1949). It's hard to perform "The Little Foxes" any other way in a Broadway-sized house, but Shattered Globe is mounting it in a black-box theater small enough to make it possible for the members of the ensemble cast to underplay their roles, and the results are revelatory. Linda Reiter is bracingly cold and flinty as Regina, the stone-hearted sister who'll stop at nothing whatsoever to get what she wants. As for Kevin Kenneally, who plays Ben, the brains of the Hubbard family, his silken performance is a study of malice so sharply etched that you'll shiver every time he smiles....
Anyone who doubts that William H. Macy is one of the foremost character actors of his generation should pay a visit to the Broadway theater where he is currently appearing in David Mamet's "Speed-the-Plow." When Jeremy Piven dropped out of the show a few weeks ago, claiming to have been laid low by excessive consumption of sushi, it looked like curtains for the 20th-anniversary revival of Mr. Mamet's three-person play about life among the vultures of Hollywood. But Mr. Macy, who has known Mr. Mamet since the world was young, nobly saved the day by stepping in and giving a substitute performance so rich and complex that it adds a whole new layer of meaning to an already fine play....
* * *
Read the whole thing here.
Here are two scenes from Shattered Globe Theatre's production of The Little Foxes:
Posted February 6, 2009 12:00 AM
Tell A Friend