« TT: The ghosts of Studio One | Main | THE GHOSTS OF STUDIO ONE »
November 21, 2008
TT: Road to nowhere
Three new shows this week, one disappointing, one great, one pretty good. Read all about Road Show, Dividing the Estate, and American Buffalo in today's Wall Street Journal drama column. Here's an excerpt.
* * *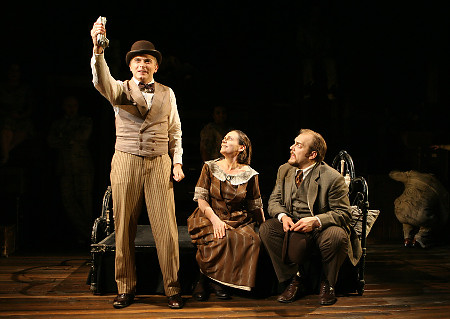 Stephen Sondheim and John Weidman got their wish: "Road Show" finally made it to New York. This much-revised musical about two brothers who can't decide whether to love or hate one another has been under construction for a decade, but only now has the show, which was previously known as "Wise Guys" and "Bounce" and made it as far as a 2003 tryout in Washington, D.C., taken definitive shape as the one-act chamber musical currently being performed downtown at the Public Theater. I wish I could say it was worth the wait, but "Road Show" isn't up to the high standards of the creators of "Pacific Overtures." The book is flat, the score fluent but pale, and my reluctant guess is that the Public will be the last stop on its long trip....
[Mr. Sondheim's] stylistic fingerprints are all over the score--no one else could have written a bar of it--and it may be that closer acquaintance will make its beauties more apparent. Alas, my first impression is that the songs lack the lyrical bite and sharp melodic profile that one takes for granted from the reigning genius of postwar American musical theater.
About the failings of Mr. Weidman's book I have no doubts, for they're painfully evident: "Road Show" is all tell and no show, a string of talky, undramatic ensemble numbers that feels more like an oratorio than a musical....
Horton Foote's "Dividing the Estate," which had an extravagantly well-received run Off Broadway last fall, has now transferred to Broadway with its original 13-person cast intact. It's a bitingly macabre comedy about a family of Texans who've been sponging off the money of their mother (Elizabeth Ashley) for so long that they've forgotten how to live their own lives. No doubt Primary Stages and Lincoln Center Theatre, the co-producers, hope to profit from the protracted hoopla over Tracy Letts' "August: Osage County," a similarly dark study of American family life. They deserve to get their wish: "Dividing the Estate" is the best show now playing on Broadway, give or take "Gypsy." Not only is it at least as good a play as "August: Osage County," but this production, directed by Michael Wilson, is a stunner, a gorgeous piece of ensemble theater in which nobody puts a foot wrong....
The word is that "American Buffalo," the second David Mamet revival to open on Broadway this season, will close on Sunday unless ticket sales take an upward turn between now and then. Too bad. This isn't a perfect production, but it's worthy and definitely ought to be seen....
Cedric the Entertainer, the comedian-turned-movie-star who made a splash in "Barbershop," is less a stage actor than a stage presence--but a strong one. He delivers Mamet's highly stylized dialogue in a too-naturalistic manner, but it's easy to imagine him making a powerful impression in a more straightforward show, and I very much hope that somebody casts him in an August Wilson play one of these days....
* * *
Read the whole thing here.
Watch my wsj.com video review of American Buffalo here:
Posted November 21, 2008 12:00 AM
Tell A Friend