« MUSEUM | Main | TT: Almanac »
October 19, 2008
TT: Neal Hefti and Dave McKenna, R.I.P.
Two more jazz masters have passed on. Neal Hefti was best known to the public for composing the Batman and Odd Couple themes, but among musicians it was his smoothly swinging work for Count Basie that made him legendary, in the process helping to update and redefine the language of postwar big-band arranging. The Atomic Mr. Basie, their best-known collaboration, contained "Li'l Darlin'," the slower-than-slow ballad for which Hefti will always be remembered. Marc Myers' obituary deftly summarizes his innumerable other musical achievements and offers a well-chosen list of recommended recordings. I especially like "The Good Earth," the oft-reissued 1945 Woody Herman flagwaver that is one of my all-time favorite big-band recordings.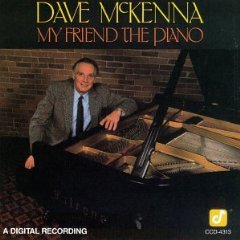 Dave McKenna was best known for his unaccompanied piano solos, whose propulsive left-hand walking-bass lines rendered sidemen superfluous. He was also a consummately sensitive balladeer, and Solo Piano, recorded for Chiaroscuro in 1972, includes a version of Leonard Bernstein's "Lucky to Be Me" that shows him at his most tender. (You can download it from iTunes.)
McKenna recorded frequently before illness forced him into retirement, but not nearly enough of his albums remain in print. I hope Concord will hasten to reissue My Friend the Piano, for me his most satisfying record. Used copies are easy to find, and I suggest that you order one, listen to "Baby, Baby All the Time," and mourn the passing of an artist.
* * *
"Li'l Darlin'," "The Good Earth," and "Lucky to Be Me" can all be downloaded from iTunes.
Hefti's New York Times obituary is here. McKenna's is here.
Doug Ramsey writes well about Hefti and McKenna here and here.
Here's an appropriately elegiac McKenna medley of Leonard Bernstein's "Some Other Time" and Johnny Mandel's "A Time for Love":
Posted October 19, 2008 11:37 AM
Tell A Friend