« TT: Almanac | Main | OGIC: A friend remembers Wallace »
September 19, 2008
TT: Revolutionary bore
This week I review three shows in my Wall Street Journal drama colum, one on Broadway and two in Cape May, New Jersey. The Broadway premiere of A Tale of Two Cities is an expensive dud, while Cape May Stage's Doubt and the East Lynne Theatre Company's To the Ladies are both top-notch. Go figure! Here's an excerpt.
* * *
If you loved "Les Misérables," you'll like "A Tale of Two Cities." The book is earnest, the décor elaborate, the cast hard-working. I wish I could summon up somewhat more enthusiasm for Jill Santoriello's musical version of Charles Dickens' great novel of the French Revolution, but except for Tony Walton's ingenious quick-change sets and James Barbour's magnetic performance as Sydney Carton, the first show of the Broadway season is a protracted exercise in plodding mediocrity that's as sincere as a Sunday sermon and several times longer to boot.
Authorially speaking, "A Tale of Two Cities" is a one-woman show. Ms. Santoriello, a Broadway debutante, wrote the book, an overstuffed digest of Dickens' eventful novel, and the songs, whose lyrics are gimcrack and whose music consists of dull tunes that have been bulked up in vain with rolling cymbals and thundering timpani....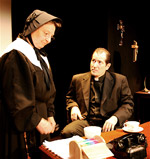 Cape May Stage performs in a deconsecrated Presbyterian church whose ecclesiastical yet intimate air enhances the effectiveness of its superb production of "Doubt," John Patrick Shanley's Pulitzer Prize-winning play about a Roman Catholic priest (Paul Bernardo) who may or may not have molested a child in his care. I saw "Doubt" at what I took for granted would be a disadvantage, since Brían F. O'Byrne, Cherry Jones, Heather Goldenhersh and Adriane Lenox, the stars of the original New York production, gave bravura performances that still stand out in my memory. Imagine my surprise, then, when Mr. Bernardo, Mary Baird, Abby Royle and Sameerah Luqmaan-Harris, all of whose names are new to me, turned out to be every bit as good as their better-known predecessors....
Unlike Cape May Stage, which offers the usual summer-theater mix of straight plays and small-scale musicals, the East Lynne Theater Company specializes in shows that "deal with the uniquely American experience," including revivals of forgotten American plays from the first half of the 20th century. This year the company has exhumed "To the Ladies," a 1922 comedy by George S. Kaufman and Marc Connelly. All Kaufman-Connelly revivals are rare--Kaufman is now remembered solely for his later collaborations with Moss Hart--but "To the Ladies" hasn't been staged anywhere since 1926, which makes this production significant by definition.
To be sure, I expected that "To the Ladies" would be a historical curiosity, but it turns out to be a thoroughly likable piece of proto-feminist fluff about a pair of bumbling businessmen (John Morton and Ken Glickfeld) and the brainy wives (Tiffany-Leigh Moskow and Suzanne Dawson) who repeatedly pull them out of the holes they dig for themselves.
* * *
Read the whole thing here.

Posted September 19, 2008 12:00 AM
Tell A Friend