« TT: Almanac | Main | BOOK »
July 8, 2008
TT: Doing it for Randolph Scott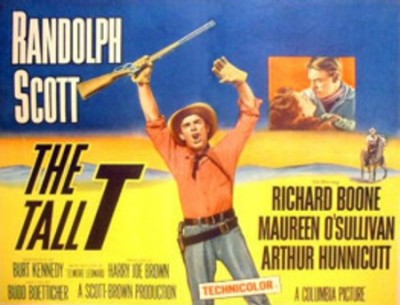 Attention, film buffs! For those of you who, like me, treasure the Hollywood western at its smartest and most aesthetically compelling, a piece of stop-press news has been eddying through the Internet for the past month or so, courtesy of the in-house blog of Tapeworks Recording Studios in Hartford, Connecticut. It finally caught up with me yesterday:
It was a B Movie bonanza in Tapeworks today as noted film authority Jeanine Basinger narrated a companion DVD track to the Budd Boetticher Western, The Tall T, starring Randolph Scott and Maureen O'Sullivan.

This is the first in a series of Boetticher releases that will comprise a box set of the directors distinctive works.

A regular presence in the Hartford recording studio, Prof. Basinger has provided commentary on numerous titles while viewing the films with Chief Engineer Bill Ahearn at Tapeworks and simultaneously with a Hollywood production company on the digital patch.

Jeanine Basinger is Corwin-Fuller Professor of Film Studies and Founder and Curator of the Cinema Archives at Wesleyan University, Middletown, Connecticut.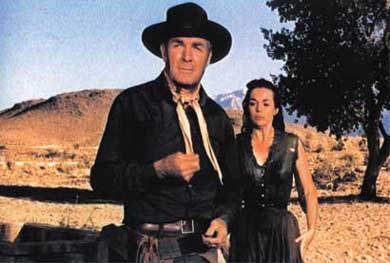 For those of you just joining us, I've been fulminating for years about the fact that only one of the six classic films starring Randolph Scott and directed by Budd Boetticher, Seven Men from Now, has been transferred to DVD. The Teachout Reader contains an essay about the Boetticher-Scott westerns (you can read it here) in which I praise them at length and in the strongest possible terms:
The clean, spare look of the Boetticher-Scott films is mirrored in their no-nonsense scripts. Ride Lonesome and Comanche Station, both written by Burt Kennedy, are for all intents and purposes the same movie as Seven Men from Now--the basic plot mechanism is recycled from film to film, along with a few choice snippets of dialogue--while Decision at Sundown and The Tall T, the former doctored by Kennedy and the latter adapted by him from a novel by Elmore Leonard, arise from different situations but develop in similar ways. More often than not, Scott plays the part of a solitary, vengeful drifter who is searching for a man has wronged him, usually by murdering his wife. In the course of his travels, he meets an unhappily married woman, to whom he is powerfully and illicitly attracted, and a villain who is charming and courageous--a hero gone bad, in other words. The villain proves to be looking for the same man as Scott, but their interests are in conflict, forcing them into a climactic showdown.

What sounds repetitive on paper proves miraculously varied in practice. Just as Degas never tired of the ballet dancers he painted time and again, so does Boetticher come up with ever-fresh ways to frame his players among the sun-scorched rocks of Lone Pine, finding painfully austere beauty in that least seductive of landscapes....
Now coming to a DVD player near you? It sure looks like it--and about damn time, too.
I'll keep you posted.
Posted July 8, 2008 12:00 AM
Tell A Friend