« TT: Snapshot | Main | TT: Moving right along »
June 4, 2008
TT: Objects in mirror (III)
• FRIDAY, MAY 30 To Montgomery, Alabama, by way of Hartford and Atlanta, where I picked up a rental car and drove southwest for two and a half hours, listening along the way to Glenn Gould's recording of the Bach E Minor Partita and an advance copy of Roger Kellaway's forthcoming live album. I'm writing the liner notes for the Kellaway album, having been present when it was recorded.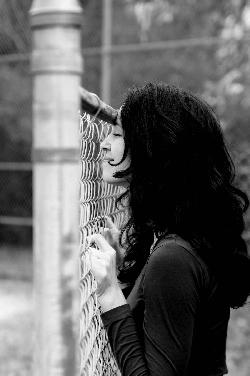 I also listened to Better, a CD by a very promising young singer-songwriter named Brooke Campbell with whose shivery, breathless voice and deep-toned acoustic guitar playing I fell in love after hearing her perform live a couple of months ago. I don't know why she isn't better known--I haven't been more impressed with a singer-songwriter since I first heard Jonatha Brooke.
Montgomery is the navel of the Deep South, where the waitresses say "Mornin', hon" and serve you sweet tea without asking. I never sweeten my iced tea in New York, but in Alabama I take it as it comes, and it came that way when I ordered dinner at Martin's Restaurant, which also serves the fluffiest biscuits imaginable. After lapping up a piece of chocolate meringue pie like Mom used to make, I drove to a motel on the edge of town, checked in, and finished reading a biography of Hugh MacLennan before retiring for the night.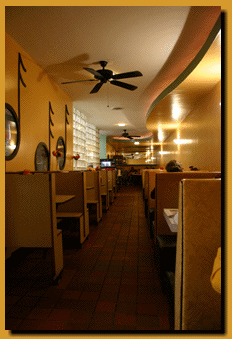 • SATURDAY, MAY 31 Breakfast at the Waffle House across the highway from my motel. The hash browns there are good and greasy. Afterward I returned to my room, knocked out a set of liner notes for Paul Moravec's next Naxos CD, and e-mailed them to him in Princeton, then spent the rest of the day watching back-to-back performances of the Alabama Shakespeare Festival's productions of The Count of Monte Cristo and Romeo and Juliet. In between shows I drove downtown and dined at Chris' Hot Dogs, a fabulous old dump where Hank Williams used to eat once upon a time. (The above photo is of the dining room, which looks a whole lot dingier in real life.)
I last visited Alabama Shakespeare three summers ago, writing about it the following week in my Wall Street Journal drama column:
Rarely has anything so delightful as the Alabama Shakespeare Festival been situated in a more depressing location. To get there, you drive past downtown Montgomery, pull off the interstate and plunge into a tangle of six-lane suburban sprawl so congested as to make the hardiest of urban planners reach for a triple dose of Xanax. Strip malls, fast-food joints, megachurches the size of Wal-Marts...but then you take a sharp turn and find yourself in the middle of a 250-acre park that looks as though it had been landscaped by Grant Wood and mowed daily by a thousand well-paid gardeners. Down one lane is the Montgomery Museum of Fine Arts; down the other, the Carolyn Blount Theatre, home of one of America's most ambitious and impressive theatrical enterprises. It is, if a weekend visitor to the Bible Belt dare say so, the damnedest thing imaginable.
A previous stage version of The Count of Monte Cristo served as a vehicle for the histrionic talents of James O'Neill, Eugene's father, who is said to have acted in it some four thousand times. In 1913 he made a silent film of his production. Here's a clip:
• SUNDAY, JUNE 1 I woke up early, wrote my Roger Kellaway liner notes, and e-mailed them to IPO Recordings, then headed back to Connecticut by way of Atlanta. Mrs. T picked me up at the Hartford airport, where it was twenty degrees cooler than in Alabama.
"Did you miss me?" I asked.
"Maybe just the least little bit," she replied.
(Last of three parts)
Posted June 4, 2008 12:00 AM
Tell A Friend