« TT: Almanac | Main | TT: The case for lower-case opera »
April 2, 2008
TT: Words to the wise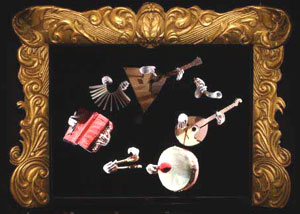 Puppeteer Basil Twist brings his production of Petrushka back to Lincoln Center tonight, where it will run through April 13. Here's part of what I wrote about the original production in the Washington Post in 2001.
* * *
Twist is the downtown puppeteer who first attracted attention with "Symphonie Fantastique," one of the few truly indescribable theatrical experiences I have ever seen--the closest I can come to telling you what it was like is to say that it was an abstract puppet show set in a giant tank of water through which colored ribbons and cut-outs were tugged in strange and wonderful patterns, accompanied by the music of Berlioz. I know how pretentious that must sound, but believe me, "Symphonie Fantastique" was funny and mysterious and beautiful.
So is "Petrushka," though it's easier to explain: Twist has taken Michel Fokine's 1911 ballet and turned it into a miniature extravaganza, with Igor Stravinsky's score played on two pianos by a pair of identical twins (no, I didn't make that up). Try to imagine a cross between Jerome Robbins and Chuck Jones and you'll get some sense of the character of this remarkable work. To call Twist a puppeteer is missing the point--he's a master choreographer who happens to work with puppets, and he deserves a performance space of his very own.
* * *
For more information, go here.
Posted April 2, 2008 12:00 AM
Tell A Friend