« TT: Who cares what Mozart looked like? | Main | TT: Almanac »
April 11, 2008
TT: Enter Macbeth, with hammer and sickle
I have good news to report in this week's Wall Street Journal drama column, in which I speak well of two shows, the Broadway transfer of Patrick Stewart's Macbeth and Westport Country Playhouse's revival of Alan Ayckbourn's Time of My Life. Here's an excerpt.
* * *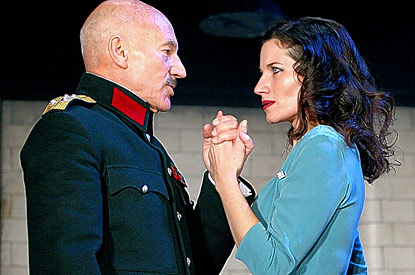 It's been a long time since a Shakespeare play caused more talk among New York theatergoers than Rupert Goole's blood-soaked Chichester Festival Theatre version of "Macbeth," which has just transferred to Broadway from the Brooklyn Academy of Music for a commercial run. Patrick Stewart's presence in the cast explains much of the buzz, but not all of it: This is a remarkable "Macbeth," thrillingly acted and imaginatively directed, and it would be worth seeing even if Mr. Stewart weren't playing the title role.
Mr. Goole's staging is a prosy, purposefully unmagical updating of Shakespeare's tragedy in which the action is transplanted from ancient Scotland to the Soviet Union in the darkest days of the Great Terror. The setting is an anonymous, grimy-tiled chamber that serves by turns as an emergency room, a dining hall, a morgue, an unconvincing-looking battlefield and an even less plausible passenger train. Mr. Stewart's Macbeth is a Stalinesque soldier who seizes power by assassinating his leader, while the three Weird Sisters become renegade nurses who kill their patients on the operating table, a wonderfully alarming touch.
While I have no problem with Mr. Goole's conceptual overlay on Shakespeare's text--it makes sense to approach "Macbeth" as a tale of more or less contemporary tyranny--I can't say that I was completely convinced by the way in which he draws his historical parallels....
What really works in this "Macbeth" is the acting. Mr. Stewart is too old and too bluff to be altogether believable, but the freshness with which he delivers his well-worn speeches will still make you feel as though they'd just been written. Kate Fleetwood is terrifyingly vulpine as Lady Macbeth...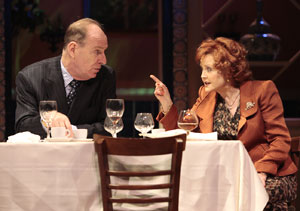 I'll go a long way to see an Alan Ayckbourn play, but Westport Country Playhouse, which is an hour-long train ride from Times Square, has saved me the trouble by mounting an outstanding revival of "Time of My Life," Mr. Ayckbourn's 1992 comedy about a family that thinks it's a lot happier than it really is.
To call "Time of My Life" a comedy is, of course, to miss the point. It is, like most of Mr Ayckbourn's plays, a deeply serious study of middle-class life whose jokes all cut to the quick. It is also, like many of his plays, a virtuoso piece of stagecraft. The curtain goes up on a birthday party whose six guests give every impression of having a perfectly marvelous time. "My intention," Mr. Ayckbourn has said, "was to perceive a single moment in life--in this case where the characters are apparently very happy. I then proceed to look at that moment through the eyes of the three pairs of protagonists. One pair remaining for two hours in the present, one pair proceeding two years into the future and one pair receding two months into the past." What sounds fearsomely knotty in the telling turns out to be brilliantly lucid in the playing...
* * *
Read the whole thing here.
Posted April 11, 2008 12:00 AM
Tell A Friend